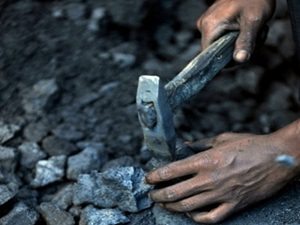 [miningmx.com] – ANGLO American turned again to South Africa's sub-Saharan neighbours for fresh exposure to energy coal winning the right to explore an estimated 671 million tonnes (Mt) of coal-bearing properties in Botswana's Mmamabula coalfield.
Last year, Anglo's metallurgical coal business unit announced its intention to pay $555m for the Talbot Estate's 58.9% stake in the Revuboe 1.4 billion tonne coking coal project in Mozambique. The transaction is not finalised owing to outstanding authorisations from the regulator.
According to Botswana's Mmegi Online, Anglo Thermal Coal emerged the winner of some 23 applicants for the coal blocks – the Mmamabula South and Central blocks – which are adjacent to the Mmamabula East property owned by Jindal Steel & Power, the company that recently bought Toronto-listed CIC Energy.
Anglo American confirmed the report, saying that exploration rights had been granted for a three-year period.
"These licences became available for tender after the Government of Botswana lifted the moratorium on applications for prospecting licences last year," it said in response to a Miningmx query.
"Mmamabula Central and South blocks, located in the south-eastern part of Botswana, have been widely prospected on by several companies in the past," it said.
According to the previous owner CIC Energy, the Mmamabula South and Central blocks could hold 671Mt of coal. CIC Energy lost ownership of the prospecting rights after failing to develop them within the stipuated time period.
This is not the first time Anglo has sought out coal in Botswana. In 2007, it was granted 34 prospecting licences for coal bed methane (CBM) through subsidiary Anglo Coal. It aimed to delineate gas reserves totaling at least four trillion cubic feet (tcf), which will be sufficient to justify construction of a dedicated synfuels plant.
The Mmamabula South and Central blocks were put to open tender as part of a recommendation of the Coal Road Map which has been described as the Botswana government's blueprint for extracting the greatest value from its estimated 212Bt of coal resources.
In his Committee of Supply speech to Parliament this week, Minister of Minerals, Energy and Water Resources, Kitso Mokaila, said the tender-based licencing criterion for coal prospecting licences was just phase one of the Coal Road Map.
The Coal Road Map comes amid recent research by Wood Mackenzie, a coal industry consulting firm, which found that a large number of prospecting licences were not being developed with another vigour.
In fact, just nine of the 41 companies currently holding leases ". are actively exploring at all and even active explorers are generally not exploring on all the leases they hold," Wood McKenzie said.
"This situation is obviously undesirable as the government would like to ensure that as much exploration as possible is occurring," the report said.
Anglo already owns a stake in Morupule Coal Mine by virtue of being a shareholder in Debswana, through its 85% investment in De Beers, the diamond producer.
Said Anglo: "Botswana remains one of the key areas with a potential for growth of our thermal coal business.
"The awarding of these two prospecting licences gives us an opportunity to evaluate these resource blocks and further strengthen our relationship with the Government of Botswana".