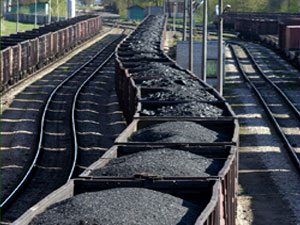 Freight services and shipping group Grindrod has made a critical breakthrough for its fledgling RBT (Navitrade) coal export terminal at Richards Bay by negotiating the same railage tariffs from Transnet Freight Rail (TFR) as those paid by the much larger Richards Bay Coal Terminal (RBCT).
According to a coal industry source users of both the RBT and the RBCT will pay approximately R150 per ton for coal railed from Middelburg in Mpumalanga to Richards Bay.  Prior to this agreement coal exporters using RBT were paying around R280/t to rail coal from Middelburg.
The source added TFR's decision made little business sense given the reason the RBCT had enjoyed a far cheaper rate until now was because of the terminal's huge export volumes which resulted in greater logistical efficiencies making it cheaper for TFR to service the terminal.
The RBCT typically handles trainloads of around 8,400t of coal at a time compared with average trainloads of around 2,500t going to the RBT because it receives the bulk of its shipments in "jumbo" trains using larger capacity wagons..
The RBCT exported 75.4mt of coal during 2015 while the RBT is planning to build up to exports of 3mt for 2017.
Neither Grindrod nor TFR would confirm the details of their tariff agreement which was announced publicly last week by Grindrod CEO Alan Olivier during his presentation of the group's interim results for the six months to end-June.
When asked for the precise rate at question time Olivier replied, "I don't think I can give you that. We have not disclosed those numbers. "
In reply to emailed questions TFR spokesman Clement Maphaba told Miningmx, "our rates are confidential and negotiated with the customers individually. However, our tariff methodology is informed by strategic decisions and the RBT tariff also attracts a commodity price participation."
The deal is a breakthrough for the RBT and a blow to the RBCT in the on-going competition between them to attract more business from junior black economic empowerment (BEE) coal exporters.
TFR is keen to expand this BEE export business and has been in discussions with both the RBCT and the RBT over possible terminal expansions as well as – at one stage – mulling building its own coal export terminal at Richards Bay.
The RBCT had been pitching for the business on the grounds it would be far cheaper for new exporters to use its facilities because of the cheaper railage rates as well as lower port handling costs.
Coal juniors using the RBCT – such as the participants in the Quattro scheme – will still be able to export more cheaply than going through the RBT because of the RBCT's much lower handling charges – believed to be around R20/t – compared with handling costs of between R80/t and R120/t charged by the RBT.
Neither the RBCT nor the RBT will disclose their handling costs but Olivier commented, "we don't know what the costs of the RBCT are but it's owned by the majors and they are working off an extremely low sunk cost. We probably cannot compete with that but our terminal is operating as efficiently as it can and the supply/logistics chain is operating very cost efficiently."