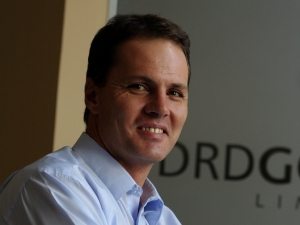 [miningmx.com] – DRDGOLD looked past its recent project commissioning troubles paying a two cents per share annual dividend as it recorded best quarterly output of the year in its fourth quarter, and yields recovered.
"Because of the way things finished, we were in a position to pay a small dividend," said Niel Pretorius, CEO of DRDGold. "It plays an important role in messaging to the market. We embrace this model of uninterrupted mechanised mining," he said.
DRDGold ran into metallurgical recovery problems whilst commissioning its R600m flotation fine-grind (FFG) technology during the year ended June 30.
As a result, it suspended the project as it sought to iron out the glitches. It hasn't given an indication as to when it will recommission the project which is intended to improve yields from the surface dumps it retreats.
Notwithstanding the strong end in its fourth quarter, which was achieved by relying on its existing carbon-in-leach technology, the group posted a R54.7m loss for the year against a R97.6m profit in the 2013 financial year.
Shares in the company were 6% lower on the Johannesburg Stock Exchange by mid-morning, however, as investors took a dim view of the results.
Cash on hand remained "fairly healthy", however, which Pretorius put down to "a solid recovery" in the last quarter. Cash and cash equivalents were R209m compared to R206.7m at the end of the previous financial year.
"It's a year that kicked off with huge expectations and then just didn't get it right when came to commissioning of new technology. But now re-established a sound foundation; one in which I have alot of confidence on," said Pretorius.
Pretorius said the company was slowly testing the FFG with one third of the circuit being made fully operational in order to establish whether the concentrate produced was of an acceptable level.