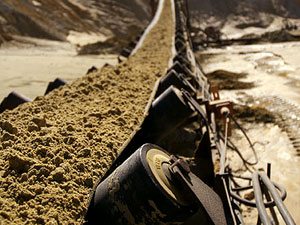 [miningmx.com] – DRDGOLD CEO, Niel Pretorius, said he was confident the gold producer would reintroduce its high-grade gold retreatment technology in January, but added that a final decision would turn on "empirical evidence".
In April, DRDGold suspended its flotation fine grind (FFG) circuit at its Ergo plant following poor metallurgical recoveries. It had been commissioned in December 2013 bringing to an end a two-year project and total outlay of R600m.
Since then the company has been retesting the technology by putting small volumes of recovered gold through the FFG. During that process it has derived most of its gold by relying on its existing carbon-in-leach technology that provides lower grade recoveries.
"Is there upside that will be getting by introducing full stream?," said Pretorius today. "I think it will be, but I will take not make a decision on how I feel, but on actual measurements and based on empirical fact," he said.
Pretorius was commenting during a presentation of DRDGold's September quarter figures in which gold production was 37,500 ounces, an 8% increase quarter-on-quarter. On a six month comparison basis, output was 20% higher.
Net cash inflow from operations rose to R86.6m for the quarter under review, which enabled the company to pay down R73.3m in debt that was due in July, and to maintain a cash balance of R204m.
"The cash burn has only been between R20m to R25m for the year. Our cash has been very stable despite paying down part of our bond," he said referring to the R165m medium term domestic note issued in 2012.
The bottom line, however, reflected a R4.7 loss for the quarter compared to a R7.9m profit in the June quarter.