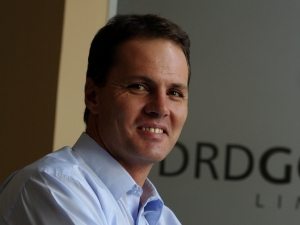 [miningmx.com] – IT will take several quarters of consistent operating and financial performances before "value investors' who sold out of the company during 2014 will start returning to DRDGold, according to CEO, Niel Pretorius.
He added that getting those value investors back into the company would drive a recovery in the share price which was a pre-requisite to any potential moves by DRDGold to diversify into tailings treatment projects in other metals such as platinum or copper.
Speaking during a media visit to DRDGold's Ergo treatment plant near Springs, Pretorius said the DRDGold share price at present was being largely driven by short-term trading trends on the New York Stock Exchange.
DRDGold has been one of the worst gold performers on the JSE over the past year following technical problems with the introduction of the FFG (flotation fine grind) circuit which was intended to increase gold recovery efficiencies by up to 20%.
Instead, a failure to integrate the new circuit successfully with the existing process saw gold recoveries drop to the point where DRDGold stopped the new operation during the 2014 March quarter.
The company reverted to the existing lower-grade recovery circuit while it sorted out the problems with the FFG. The FFG circuit is now back in operation and being "optimised' but Pretorius said the problems had effectively cost DRDGold "… a year's delay in getting to where we wanted to be.'
The share price currently sits around 237 South African cents which compares with a 12 month high of 474c and a 12-month low of 179c. In February 2013 DRDGold shares traded as high as 755c.
Pretorius commented: "Many of the trends you see in our share price on the JSE are driven by what happens in New York.
"Our share register has changed markedly over the past two years from the position where we were on the crest of a wave having outperformed not just the South African gold producers but most gold producers globally.
"That has reversed because of the gold price and the performance of our FFG circuit. A lot of the value investors that we had on the register have since exited the stock and we are – to a large extent – at the mercy of speculative buyers.
"More than 60% of the volume traded in our stock in New York is through quantitative trading; computer-driven algorithms responding to trends and signals.
"As a result the stock has become very volatile. Relatively small trades can cause big price movements. Nobody is accumulating and the stock is probably at an all-time low for a variety of reasons.
"Hopefully, investors will come back when the company's performance is such that they can plot it with a fair degree of certainty.
"Three or four good quarters of making money and good operational performances with no surprises will make the market take notice again.'
Asked about possible diversification projects – given the limited potential for further growth at Ergo, Pretorius said: "… once we have Ergo running smoothly and generating sustainable profits and once value investors have returned driving up the price of our equity then we can start looking at other tailings recovery projects.
Asked whether Ergo was already looking at possible opportunities Pretorius commented: "Yes, we are looking around, but it would be insane to do anything now with our share price at such low levels.
"Platinum is the obvious area of interest but there are also appear to be big opportunities in retreating copper dump material.'