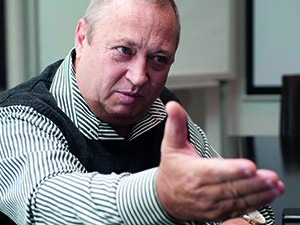 [miningmx.com] – Neal Froneman, CEO of Sibanye Gold, said he expected to have more clarity regarding the sale of assets by Anglo American Platinum (Amplats) this month.
Sibanye, created in early 2013 when Gold Fields spun out its South African mines, has been studying the platinum sector for more than a year.
Anglo American's plan to dispose of its four local platinum mines provided an obvious gateway into the platinum space for Sibanye, but a separate listing by Amplats is also a possibility. Anglo owns 77% of Amplats.
Froneman said Sibanye was "committed to doing something" with Amplats, but he was "still not sure what the final outcome [of the negotiations] will be'.
One thing is for sure though: Sibanye is going for gold. Gold sector consolidation is inevitable, Froneman said, and as the largest South African gold producer, "it is incumbent on us' to do it.
It's more likely to be a company rather than a mine or two though: Sibanye isn't in the market for any more individual assets, Froneman said. "I think we've done as much asset buying as we are going to do'.
As the gold sector faces falling production, soaring power costs, depressed prices and even more depressed shareholders, creative cost cutting appears to be the only way forward.
There is not a lot more that can be taken out of the cost structures of South African gold companies. They are "lean and well run,' said Froneman. But through consolidation, billions of dollars in duplicated services can be saved. Head offices, marketing, security and even management are some of the places desperately needed cash can be saved.
JOB LOSSES
There will be job losses, said Froneman, but this is likely to be at a senior level, "not at the lowest level in the organisation'. It is inevitable: "If you want to prosper in the long run, you have to accept [job losses] as a consequence of these things'.
But as wage negotiations in the gold mining sector gouges holes into the already eroded relationship between industry and labour, Froneman's tough love scenario will be a hard sell.
The major gold mining companies last week made unions their final three-year offer after five long weeks of negotiations – an offer that has been rejected by the Association of Mineworkers and Construction Union (AMCU).
The four unions, The National Union of Mineworkers (NUM), AMCU, Solidarity and the United Association of SA (UASA) were told that this was the final bid; the numbers would not be amended even during mediation.
AngloGold Ashanti and Sibanye said they would go to a R1,000 "allowance', which would be independent of productivity incentives or retirement benefits, for the next three years.
Harmony Gold has offered R500. Harmony offered 4.6% increases for higher category workers, while Anglogold and Sibanye offered 6% or inflation rate increases.
Harmony Gold seems a logical starting point for Sibanye's foray into industry consolidation. The companies' Beatrix and Joel mines in the southern Free State are next door to each other which means a virtually instant scything of duplicated costs. It's cheap too. Froneman said: "It is helluva cheap, but there's a reason why it's cheap, the gold price and other issues are having a negative effect.'
Harmony, which is the country's third largest gold producer, has had a worse than average run at its local mines in the past months.
Work stoppages, fires and illegal mining at Kusasalethu, its biggest mine, for example, dragged down output exacerbating already bloody conditions in the industry. Major restructuring meant Harmony was forced cut 1 300 jobs out of the mine's 6 000 positions.
The company narrowly avoided retrenching more than 3,500 jobs at its loss-making Doornfontein mine by major restructuring, a process also put in place at the company's low-grade Masimong mine.
Internationally though, things are looking promising for Harmony with good news being released about significant finds in its Papua New Guinea operations. With CEO Graham Briggs preparing to step down, chances are the company might want a new start which Sibanye could help with.
Harmony was trading at around R13 this week well down from a 12 month high of R35 in February, a 63% fall. The company's market cap stands at around R5.5bn.
By comparison, Sibanye was this week trading at R17, down from R32 at its height at the end of January – a 49% drop. Sibanye's market cap is around R15.2bn.
But while it seems an obvious choice, Froneman isn't saying a firm yes or no about its intentions with Harmony – or any other gold purchases – just yet.
COAL OPTIONS
Another resource Sibanye is considering seriously is coal which Froneman indicated Sibanye could be involved "in the not too distant future'. With 20% of the company's output costs going into its 500MW power requirement, he said management would be fired if it just continued to rely on Eskom, so alternative sources of electricity are being actively sought.
The initial move away from its dependance on the state power utility will be in solar power, but then the plan is to set up off-take agreements with independent power producers who would fund and build the power stations.
The only debate at this stage is whether to have the coal-fired stations built at Sibanye's coal mines, or to bring the coal to the power station.
Sibanye is one of the few resources companies currently considering South Africa as a place to invest for the long haul. Froneman said the local industry has a laundry list of problems – most notably a desperate lack of regulatory certainty – but he added that he isn't going anywhere and the company's dividend play isn't changing either.
Sibanye is set to grow: "We would look at basically anything that adds value, and supports the dividend' he said.