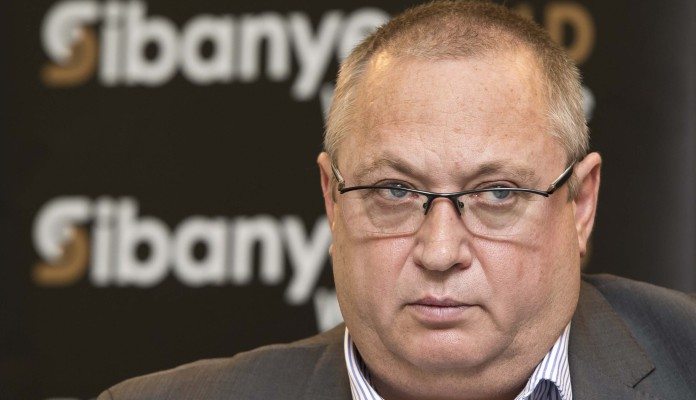 NEAL Froneman, CEO of Sibanye Gold, has reaped the rewards of a more than 300% improvement in the precious metal firm's share price since listing in February 2013.
The company announced today that Froneman, formerly CEO of Gold One International and Uranium One, took possession of about R35.7m in company shares.
Including a share payment of R29.2m on March 2, this brings payments to Froneman in maturing shares to about R65m.
"Performance shares are conditionally awarded with the final number settled after three years dependent on market and non-market conditions being met," said Sibanye Gold in an announcement to the Johannesburg Stock Exchange.
Froneman was granted two tranches of shares of 200,000 and 431,608 which were cashed-in following the stipulated three-year maturation period at R55.99/share and R56.66/share respectively. In terms of value this is equal to R11 199,780 and R24 455,513 respectively.
Sibanye Gold has recently bought platinum assets, but at its listing it was wholly focused on running South African mines demerged from Gold Fields; namely, the Kloof, Driefontein and Beatrix mines.
At the time there was some scepticism that the mines were high cost, vulnerable to stoppages from worker unrest, and limited in terms of resource and reserves life.
Under Gold Fields, gold reserves had fallen to 13.5m million ounces in 2012 from 45.1 million oz in 2007 which Sibanye then increased to 31 million oz in 2015.
Gold Fields had also expected the end of gold production by 2033/34 from just over 1.2 million oz today whereas Sibanye Gold is forecasting output of 1.6 million oz this year and output of 600,000 oz in 2033/34, assuming it doesn't add to its asset base assuming a rand gold price of R450,000/kg.
Froneman has reversed this turnaround from Gold Fields' harvest strategy to growth profile partly through acquisitions and has since added platinum production to the mix whilst raising the prospect of moving into base metals, coal and gold output from continental Africa.
The company, which now has a market capitalisation in excess of Gold Fields, is expected to cap the transformation by rebranding itself Sibanye Resources.
This aggressive growth strategy has attracted some criticism as 'empire-building' that was intended to distract investors from an alleged lack of sustainability, but Froneman – apart from the shares payout – has received some vindication.
Citi analyst, Johann Steyn, who has been sceptical of Sibanye Gold in the past, commented at the group's full-year and fourth quarterly results presentation in February that: "You are proving a lot of sceptics wrong of which we are one of them".