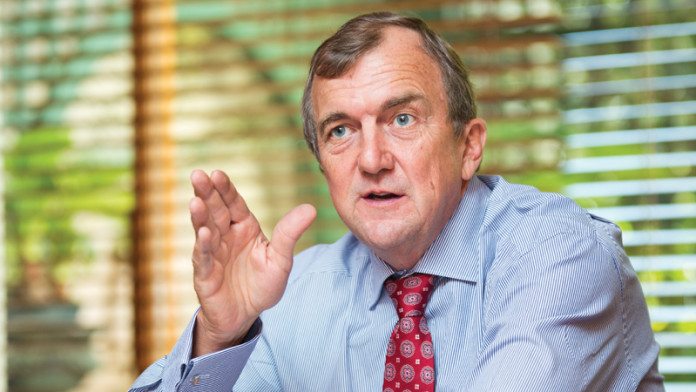 TALKS to resolve an illegal sit-in by employees at Randgold Resources' Tongon mine in Côte d'Ivoire were underway, the company said in a statement.
The industrial action, which relates to demands for an annual ex gratia payment, had been underway since January 26. The sit-in did not have the support of the central or local government, nor of the union.
The ex gratia demand means that the mine is not legally obliged to make any payment, but that it is being requested by employees as a largesse, or favour.
Tongon, which produces about 300,000 ounces of gold a year, has had a tricky 12 months after experiencing milling problems last year contributing to a second quarter that CEO, Mark Bristow, described as among his toughest.
In more uplifting news, Randgold said it expected to report record fourth quarter gold production from Loulo-Gounkoto, its flagship mine in Mali.
Bristow said the mine would beat the 670,000 oz set down in production guidance and would go on to maintain annual output of 600,000 oz for at least 10 years. This should be supported by the decision to proceed with the Gounkoto super pit project, once approved by the board, the company said.
"The Loulo-Gounkoto complex is not just world-class, it is the best in its class by any measure, from the quality of its all-Malian management team through its successful owner-mining underground operation to its exemplary safety, health and environmental management programmes," said Bristow.
Investment in Mali would continue, said Bristow. In the fourth quarter, brownfields exploration in Mali had led to the delineation of over 600,000 oz of inferred resources at its Gara project while recent studies at the Yalea deposit had identified a number of targets for follow-up in 2017.
Randgold is due to report its fourth quarter and full year production and financial figures on February 6.
The comments regarding investment in Mali have an edge to them following a dispute with the government last year which claimed $80m from Randgold in unpaid taxes – which Randgold disputed.
Mali shut down Randgold's local office for three days in October and said it would take similar action at the mine giving Rangold a 10-day ultimatum. The threat was not carried out.
Randgold said at the time that it had been "… professionally advised that a large proportion of the tax claims received from the state of Mali in respect of its operations in that country are without merit or foundation. Following the appropriate legal process, it is strongly defending its position in relation to these claims".
Bristow said today: "In partnership with the government we have also developed Mali into one of the world's premier gold exploration and mining destinations, creating a solid foundation for general economic growth which together with the new mining companies in the industry can still be improved upon".