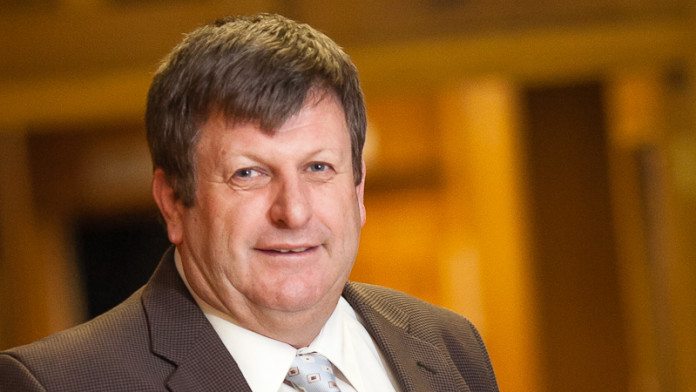 HARMONY Gold is to pay a 50 South African cents per share dividend after another robust set of results in which it whittled net debt down to R289m and increased production 8% to 553,862 ounces in the six months ended December 31.
It also put some flesh on the bones of its Hidden Valley acquisition in which it has bought a 100% stake of the Papua New Guinea asset from Newcrest Mining for $180m.
However, the investment in the mine – it previously owned 50% – was panned by investment analysts at Harmony's interim results presentation today who cast aspersions on the plan for the life extension.
The plan involves shutting the mine for five months from July after which it will undertake an expansion to 180,000 oz a year, equal to 1.2 million oz over its six to seven-year life of mine.
But in addition to a regional exploration programme, Harmony will also undertake a prefeasibility study to assess a seven year extension of Hidden Valley's life of mine – aiming at a mineable reserve of 1.3 million oz – through a further cutback of its Kaveroi orebody.
"Hidden Valley is an asset that we are familiar with," said Peter Steenkamp, CEO of Harmony, in notes to the firm's interim figures. "We know the orebody, have strong relationships with government and the communities, and have a robust reinvestment plan that will generate a return for our shareholders," he added.
There was not much more detail, however, on Harmony's ambition to buy additional gold production with Steenkamp saying simply that his firm was "very active in the acquisition space".
Steenkamp said last year that the firm could take production to 1.5 million oz/year, but that it would also embark on a programme of harvesting its Kusasalethu mine. Harmony has currently guided to annual output of one million oz and aimed to have 1.1 million oz in production at the current run-rate by 2018.
"Although the March quarter is traditionally a difficult production quarter due to the slow start-up after the festive season, we believe that our annual guidance of approximately 1.05 million oz of gold at a cash cost of about $1,100/oz is achieveable," said Steenkamp of the firm's unchanged guidance for the remainder of its 2017 financial year.
Revenue from the six months' production was slightly higher despite a lower average rand gold price thanks to gold and currency hedges put in place last year which added just over R700m in top-line income. There was also an unrealised benefit from the two hedges totalling R2.2bn as of end-December.
But earnings were lower – 150c/share compared to 324c/share in the interim period of its 2016 financial year – owing to an increase in costs, a function of including 100% of Hidden Valley's cost structure.
Nonetheless, cash generation was strong: R2.6bn was recorded after capital with all but one of Harmony's mines – Target 1 – producing positive cash.
The mine leaked R154m in the six months owing to an 11% decline in gold production as grade fell. Steenkamp said it was unlikely Target 1 would meet its 2017 plan but narrow reef mining would be implemented. Zero-based costing had also been implemented in an effort to return the mine to profitability.
"Target will have a tough three quarters to come but will be positive after that," said Steenkamp in a later presentation to media and analysts.
Production also fell at Tshepong and Doornkop but the rest of the South African portfolio continued apace. Bambanani, where a high grade shaft pillar is being mined, added R356m to positive cash flow whilst Phakisa also performed well.
HIDDEN VALLEY
Steenkamp received criticism from a number of analysts who questioned the decision to reinvest in Hidden Valley considering it had been earmarked for closure by his predecessor, Graham Briggs.
Citi analyst, Johann Steyn, was the most vocal saying that Hidden Valley had been problematic in the past and that Steenkamp's optimism about Harmony's other replacement ounce projects in South Africa was misplaced. Many projects in the past had failed at Harmony, he said.
"Technically, there's no reason why this mine cannot do well," replied Steenkamp. "The biggest issue was the overland conveyor, but it hasn't had any breakdowns in 12 months. We are quite comfortable with Hidden Valley, but the proof of the pudding will be in the eating," he said.
The mine would add 90,000 oz of additional production and it was necessary to reinvest in the mine as a number of South African mines would "fall off the edge of a cliff".
Steenkamp said he was referring to Masimong, Unisel, Bambanani and Kusasalethu. "Masimong and Unisel have only got three years," he said, although he qualified his statement saying Masimong had a history of surprising life extension.
"Bambanani is finite, with nothing left once we have mined the shaft pillar. This, for sure, has only got only four-and-a-half years of very profitable, high grade mining from the shaft pillar," he said.
Kusasalethu had about five years of mining left. "We don't believe we will have more from it assuming the gold price today. Phakisa, we could get more out of it," said Steenkamp.