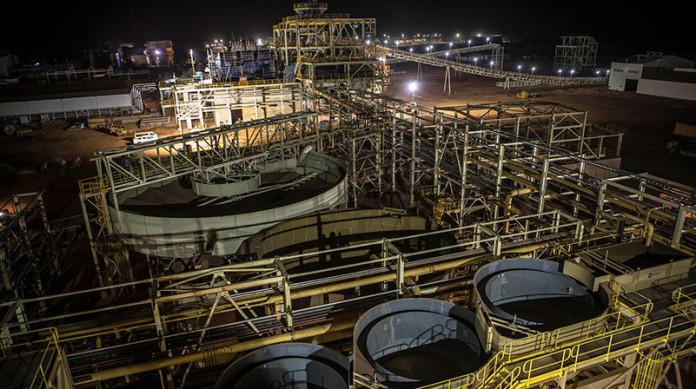 B2GOLD Corporation said its Fekola Project in Mali was expected to produce up to 410,000 ounces of gold in the firm's 2018 financial year which represents slightly more than the upper end of its previously adjusted guidance.
The Toronto-listed company added that the project's mill and processing facilities had been completed three months ahead of schedule such that commercial gold production would be between 50,000 to 55,000 ounces this calendar year. "Gold is now in the circuit and the first gold pour is anticipated by mid-October 2017," it said.
The project also remains on budget which at $521m comprises $41m in pre-construction sunk costs, feasibility study construction costs of $462m and $18m for a mill expansion to five million tonnes of ore per year (Mtpy) from 4Mtpy in the previous project iteration.
The company said it decided to build in 25% additional mill capacity during the initial construction phase rather than after since it was ahead on construction. This accounts for the anticipated production out-performance. B2Gold Corporation increased guidance owing to this from 350,000 to 375,000 oz to 372,000 to 400,000 oz of gold a year.
It will spend another $20m relocating the village of Fadougou to accommodate the project. Shares in the company were marginally up 1.2% on the Toronto Stock Exchange at the time of writing. This values the company, which also owns gold mines in Namibia and South America, at C$3.2bn.
The improvement in mill throughput was owing to success on the exploration of the Fekola resource whilst construction of the mine and plant were underway.
"The resource identified to date from drilling below and to the north of the Fekola reserve boundary combined with the near-pit portion of the Kiwi zone (to the north) could add 900,000 ounces (2/3 in the indicated category) and is being further drilled to potentially move resources from the inferred category into the measured and indicated categories," the company said in a statement today.
Aggressive exploration spend of $15m has been earmarked for Fekola in 2018, for in-fill drilling, further exploration drilling at the Kiwi and Fekola Deeps zones and regional exploration. The company anticipates announcing results from the 2017 drilling program in November 2017.
B2Gold Corporation is also to sign a pact with the Malian government – a Fekola Shareholder Agreement and Mining Convention – which will formalise a 10% free-carry stake in the project to be held by the government. There is also an option to take a further 10% stake on commercial terms which the government intended to exercise.
The mine will also be subject under Mali's 2012 Mining Code which B2Gold Corporation said addressed and clarified "… certain issues under the 2012 Mining Code". The country's 1999 Mining Code was amended in order to implement transformation within Mali, ensure the development of local communities, protect the environment and secure proper site rehabilitation and mine closure.