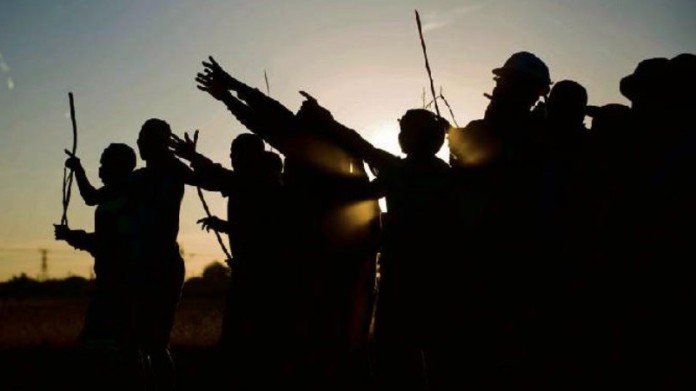 SOUTH Africa's National Union of Mineworkers (NUM) is to hold a mass meeting at Sibanye-Stillwater's Cooke shafts, west of Johannesburg, on November 1 after the union said some 2,000 employees had been instructed not to go underground at the facilities as retrenchments were due to begin.
"The company has already instructed workers not to go underground as it is preparing to put the operations on care and maintenance," said the NUM in a highly charged statement in which it blamed the company for focusing on offshore acquisitions instead of creating jobs in South Africa.
"More than 2,000 workers who received the termination letters will attend the mass meeting," it said. "We are very worried that Sibanye has decided to destroy jobs in South Africa in order for them to finance their new acquisition which is Stillwater in the United States of America," it added.
"We believe that the more than R20bn spent on that venture should have been used to create jobs where that wealth was generated." Sibanye, in fact, paid cash of $2.2bn (R31bn at today's exchange rate) for Stillwater and then changed its name to Sibanye-Stillwater in order to acknowledge its international reach.
The writing was on the wall for the Cooke shafts, however. In July 2016, Sibanye impaired Cooke 4 shaft by about R820m. By October of that year, employees embarked on an illegal strike. Then roughly a year later, Sibanye arrested hundreds of illegal miners and dismissed full-time staff that had assisted the criminal activity.
At the time there were reported threats and intimidation at the Cooke operations which resulted in 16 employees being "seriously assaulted" whilst attempting to report for work. Sibanye had increased security in the areas surrounding the mines and routes to the operations to protect employee safety.
By August, Sibanye announced that it would restructure Cooke and Beatrix West operations potentially affecting 7,500 workers – roughly 13% of its workforce. "Losses experienced at these operations negatively affect group cash flow as well as the sustainability and economic viability of other operations in the Southern Africa region, in this way, posing a threat to more sustainable employment across the region," said Sibanye in August.
Given the recent history of disruption, NUM's November 1 mass action is a concern for Sibanye-Stillwater. The company was due to make an announcement on the evening of October 31 regarding the situation at the Cooke shafts.
COAL
The NUM has been in fighting form lately. It issued a press statement earlier today in which  it accused the Chamber of Mines of acting in bad faith regarding wage negotiations in South Africa's coal sector, first begun in July. The NUM has declared a dispute which has taken talks to the Commission for Conciliation, Mediation and Arbitration (CCMA).
The NUM is demanding a once-off wage increase of R1,100 for 2017 and an 8% hike for 2019, as well as 9% for 2019. Whilst the Chamber's offer is below this, the issue of whether future wage negotiations would take place under the auspices of the Chamber of Mines appears to have reared its head again.
Coal producers affiliated with the Chamber want to conduct future wage negotiations on a mine-by-mine basis, but this has received kick-back by the NUM which may find its resources stretched by such a negotiating tactic, whilst it also prefers to wield its right to strike in a concerted manner.
"The NUM will only sign a 3-year agreement provided the Chamber of Mines accepts to remain in the Collective Bargaining Forum," it said in a statement. "They have until Wednesday to change their mindset as we will reconvene under the auspices of the CCMA or face the consequences," said Peter Bailey, NUM Chief Negotiator in the coal sector.