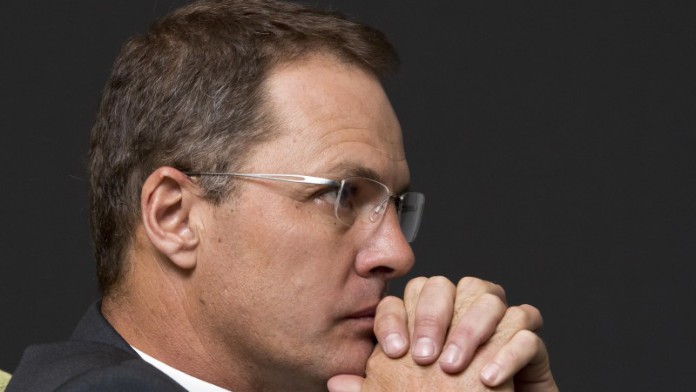 DRDGOLD CEO, Niël Pretorius, said he would not take any chances in getting shareholders to support the proposed acquisition of gold-bearing slimes from Sibanye-Stillwater, unveiled to the market last month.
"Nothing is a formality," said Pretorius whose company is compiling a circular due to be issued in mid-January that would set out the financial effects of the transaction valued at about R1.3bn. Pretorius also said in an interview with Miningmx that he would not sacrifice DRDGold's long-standing track-record of dividend payments in order to grow production.
DRDGold and Sibanye-Stillwater announced on November 22 a proposal that the latter swap the surface gold slimes of its Libanon and Driefontein operations in return for a 38% stake in DRDGold. These slimes comprise part of Sibanye-Stillwater's West Rand Tailings Retreatment Project – the WRTRP – but excluded uranium tailings at the firm's nearby Cooke shafts. Sibanye-Stillwater would also have an option to lift its stake in DRDGold to over 50%. It would get immediate board representation.
An important precursor to the first stage of the transaction, however, is that DRDGold shareholders provide a waiver exempting Sibanye-Stillwater from making an mandatory offer to DRDGold minority shareholders. This is normally a requirement when one company offers to buy more than 35% of the issued share capital of another company.
Neal Froneman, CEO of Sibanye-Stillwater, said the transaction would not proceed as planned unless this waiver was provided by DRDGold shareholders.
Said Pretorius: "We need to talk to our shareholders. We have had some preliminary discussions, but it's important that DRDGold motivates this properly. I hope the market sees that from a value per capita perspective, this deal makes sense". No single DRDGold shareholder owned more than 5% of the stock.
The addition of the higher grade Libanon and Driefontein slimes – a mere 0.03 grams per tonne higher than the average 0.344g/t grade DRDGold achieves from its existing facilities – has a significant economic effect when multiplied by the millions of tonnes of surface ore that DRDGold will be mining, said Pretorius. "Because our costs are relatively fixed, this will have a very important impact on DRDGold."
"This deal sets us up with growth for the next 13-odd years. Right now there is 28 million tonnes (Mt) of slimes that we can mine at negligible capital expenditure cost – about R200m – which we can mine out of cash flow and lender reserves," said Pretorius. "But the intention is to mine 180Mt of the resources that we have bought."
Short term mining of the Sibanye-Stillwater slimes would have no impact on the ability of DRDGold to continue paying a dividend to shareholders. "We don't want to sacrifice the dividend. We work on paying a dividend after providing for one month's working capital and capital requirements. We started that 10-years ago. And what we won't do is borrow money in order to pay out cash," he said.
According to Johann Steyn, an analyst at Citi, capital expenditure may be as much as R4.2bn to fully develop WRTRP, however. Whilst he said there was little to dislike in agreement between Sibanye-Stillwater and DRDGold, there were still risks.
"The main risk, in our view, is if DRD is unable to fully fund the capital commitments for the WRTRP from internal funds and debt, in which case shareholders, including Sibanye-Stillwater, may be approached for additional funding. Reinvesting liquid capital back into South Africa may be a negative for most investors," he said.
Pretorius said the capital expenditure calculations depended on just how much of the WRTRP project was to be mined. "The R4.2bn capital figure is a figure Sibanye-Stillwater was working on to re-mine all of its resources which is not in our project," said Pretorius.
The partnership will almost double DRDGold's resources currently estimated to be about 5.75 million ounces of gold. The company produced 137,000 oz of gold from surface retreatment activities in its last financial year. It paid a five cents per share dividend.