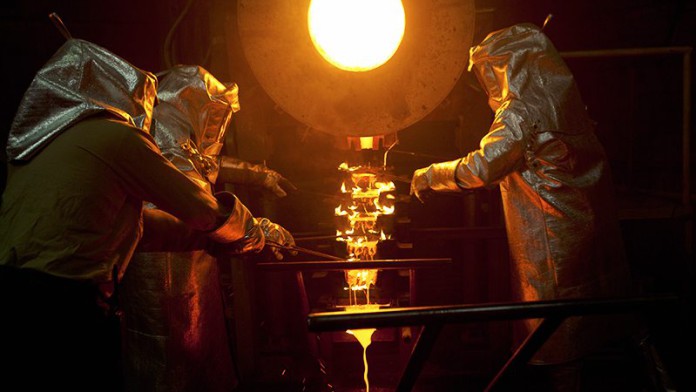 HARMONY Gold set its stall out ahead of asking shareholders to support a $100m (R1.4bn) capital raise saying the purpose of the exercise – to part pay for the $300m takeover of AngloGold Ashanti's Moab Khotsong mine – would boost cash flow 60% and provide a hefty return on investment by doubling the asset's life of mine.
The highlights of a circular to shareholders regarding the transaction, which will be posted tomorrow (December 8), include plans to mine high grade pillars at Great Noligwa, a mothballed mine neighboring Moab Khotsong, as well as to extract gold from isolated blocks of ground (IBG) at Moab – a practice with which Harmony said it was familiar as it had carried this out at its Bambanani mine since 2010.
Since adopting mining of IBG some 479,252 ounces of gold had been mined at Bambanani, said Harmony Gold in its circular. This was achieved at an average grade of 9,89 grams per tonne (g/t), extending the life of the mine to 2022 at a sustaining capital cost of R680m.
The value of mining IBG was "broadly in line" with the $260m currently imputed to the whole of Moab Khotsong identified in the Competent Person's Report compiled to address whether Harmony was paying fair value for the asset, it said. This dual strategy of removing high grade pillars and seeking out unmined IBG would roughly double Moab Khotsong's life of mine to 10 years from five currently, it added.
"Harmony believes the acquisition is value accretive and will enhance its position as a higher-grade producer and cash-generative gold mining company," it said in a statement. It anticipated the deal would "… boost Harmony's operational cash flows by more than 60%, and increase its average overall underground recovered grade by 11% and grow its South African underground mineral resource vase by 38% in each case as compared to performance in FY17 [2017 financial year]".
As part of this value add, Harmony would also treat an estimated 70 million tonnes of tailings – previously mined ore held in storage on surface – which graded at an average of 0.30g/t at the Mispah Tailings Facilities. There was excess capacity in the current Moab Khotsong/Great Noligwa processing facilities which would be optimised with "minimal capital requirements" and low technical risk, the company said. The potential net present value of doing this was $20m to $40m.
The third leg of the initiative was the possible development of Zaaiplaats, a gold deposit that exists as an extension of Moab Khotsong but which was mothballed during the time Mark Cutifani, current CEO of Anglo American, was CEO of AngloGold Ashanti. The sudden decline in the gold price during 2012 saw gold producers heavily cut capital expenditure. Zaaiplaats was one such example of cost-cutting at that time.
Whilst Harmony could not commit to developing Zaaiplaats, the project provided gold price optionality for the group, especially in a rising rand gold price environment. It offered a mineral resource base of 6.8 million oz at an average gold grade of 17.2g/t. A feasibility study of the prospect was currently underway.
"Harmony believes that Moab Khotsong is a high quality, cash generating gold mine with well-invested and maintained infrastructure which can underpin near term cash flows and support the creation of value," the company said.
Harmony said in an announcement on December 6 that it would brief investors on its debt facilities and the refinance of a $200m it had earlier raised in bridging finance in order to do the Moab Khotsong deal. The refinance would see Harmony pump $100m in cash resources with the balance from shareholders.
A private share placement or a rights issue would be contemplated, Harmony said. The rights issue or private placement is no great surprise as Harmony suggested it would take this route in October. Once completed, the purchase of Moab Khotsong will have more than 250,000 ounces a year in additional gold production.