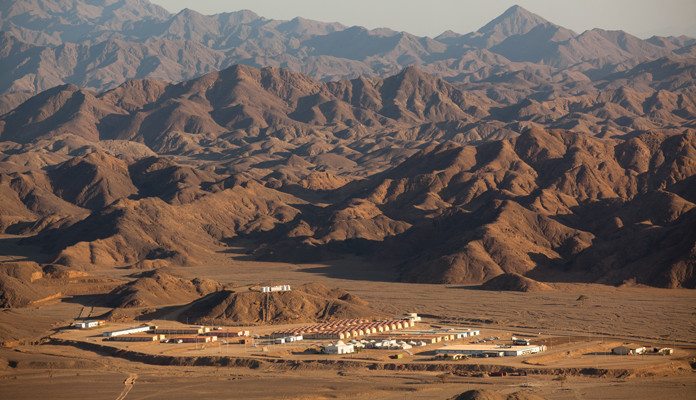 EGYPTIAN gold mining firm, Centamin, slightly exceeded full-year production guidance, and said it would lift output again in the current financial year.
Fourth quarter production was 154,298 ounces of gold which was 1.4% lower compared to the third quarter, but which nonetheless represented a 12.8% increase over the fourth quarter production of 2016. The outcome was to push full-year production to 544,658 oz, and in excess of the 540,000 oz Centamin originally guided.
Centamin produces gold from a single asset – Sukari, which is situated in the Sahara desert – but the mine has 20 years of economic reserves and resources in both open pit and underground configurations. In June, the company said it had a total mineral reserve of eight million ounces of gold with a increase in underground reserves offsetting total mining production of one million ounces from June 2015 to June 2017.
There were doubts earlier in its 2017 financial year that Sukari would reach the guided target after disappointing numbers in the first and second quarter which yielded up a total of 234,000 oz of gold. However, Sukari stormed back in the third quarter lifting production about 25% over the second quarter.
For 2018, Andrew Pardey, CEO of Centamin, said in a statement that gold production would be 580,000 oz as a result of further underground development which would "… allow a further improvement in sustainable underground production rates, consistent open-pit mill feed grades and an increase in plant throughput".
The gold would be produced at a cash cost of $555/oz and an all-in sustaining cost of about $770/oz which would result in "… significant free cash flow for our shareholders," said Pardey who added that: "Sukari continues to demonstrate its world class nature with long-term, large-scale and sustainable low-cost production". Centamin is due to announce its fourth quarter and full-year results on January 31.