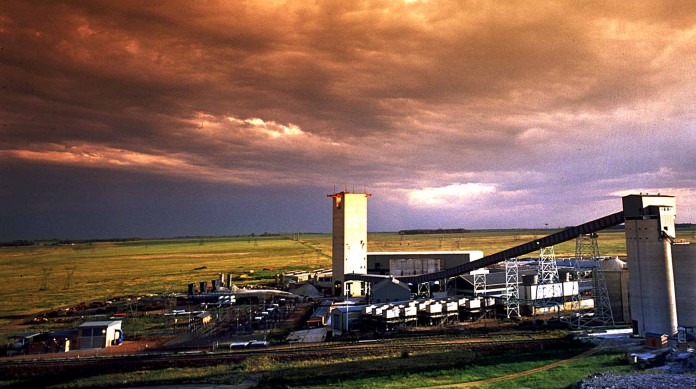 HARMONY Gold is on track to produce more than 550,000 ounces of gold in the six months ended December – a year-on-year interim increase of between 9% to 11% from its South African mines and enough to reach guided annual output of 1.1 million oz.
Commenting in an announcement to the Johannesburg Stock Exchange (JSE) today, the R9.6bn firm said total group production was 3% to 5% higher for the six month period.
Meanwhile, the processing infrastructure upgrade at Hidden Valley in Papua New Guinea was complete and processing of ore started two weeks ahead of schedule. This is the completion of a $180m project to increase Hidden Valley's productive capacity to 180,000 oz/year, first announced in September 2016.
The project was part of a strategy to lift production 400,000 oz/year whilst simultaneously retiring unprofitable ounces, such as those at Kusasalethu, west of Johannesburg. Following more than a year of corporate inaction – which had critics doubting Harmony CEO Peter Steenkamp's ability to deliver on his production growth promises – the company unveiled an $300m swoop on AngloGold Ashanti's 250,000 oz/year Moab Khotsong mine.
Given the commissioning of Hidden Valley and the proposed purchase of Moab Khotsong, 2018 has the makings of a transformative year for Harmony. First, though, it has to see through a $100m rights offer or share placement in order to part pay for Moab Khotsong.
"Buying Moab Khotsong means we boost our cash flows by more than 60%, increase our average overall underground recovered grade by 12% and grow our South African underground resource base by 38%," said Steenkamp in the transaction circular to shareholders published last year.
Harmony would also treat an estimated 70 million tonnes of tailings – previously mined ore held in storage on surface – which graded at an average of 0.30g/t at the Mispah Tailings Facilities. There was excess capacity in the current Moab Khotsong/Great Noligwa processing facilities which would be optimised with "minimal capital requirements" and low technical risk, the company said in the circular.
Buying Moab Khotsong would also open the door to the possible development of Zaaiplaats, a gold deposit that exists as a mine extension, but which was mothballed during the time Mark Cutifani, current CEO of Anglo American, was CEO of AngloGold Ashanti. The sudden decline in the gold price during 2012 saw gold producers heavily cut capital expenditure. Zaaiplaats was one such example of cost-cutting at that time.
Whilst Harmony could not commit to developing Zaaiplaats, the project provided gold price optionality for the group, especially in a rising rand gold price environment. It offered a mineral resource base of 6.8 million oz at an average gold grade of 17.2g/t. A feasibility study of the prospect was currently underway.
Harmony said today that its interim results for the half year would be released on February 13. Shares in the company were trading down 1.6% by midday on the JSE.