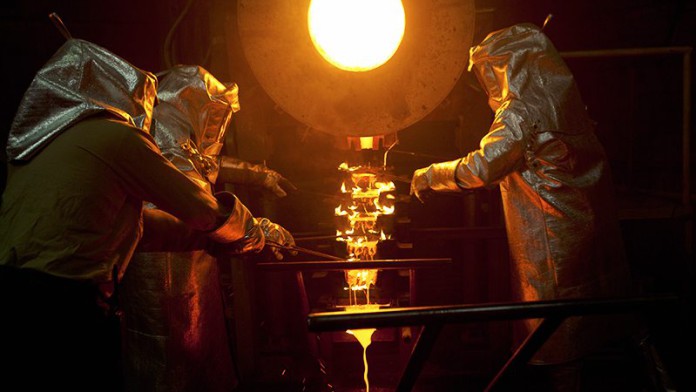 EXPECTATIONS among analysts that the dollar gold price would continue to improve this year was borne out by the metal today which scaled its highest level since late 2013. It was last trading at $1,348 per ounce.
In rand terms, however, the price received by South African miners fell again today as the currency strengthened against the dollar. Only AngloGold Ashanti, which has one mine left in the country, significantly benefited from the dollar gold price. Shares in the company were up over 3% on the Johannesburg Stock Exchange.
"Thomson Reuters GFMS expects the price of gold to advance further in 2018, supported by stronger interest from Asian retail investors and consistent interest in gold ETFs world-wide," it said in a note on January 11. "Geopolitical tensions are yet again expected to be an important factor supporting gold prices, while US monetary policy tightening will continue to weigh on gold," it said.
There are potential headwinds, however. One is the possibility the US Federal Reserve tightens monetary policy. Two more rate hikes are being factored in with the possibility of a third which could adversely affect gold. "Conversely, persistently low inflation may serve as rationale for looser monetary policy in 2018, easing the Fed's monetary grip on the metal," said Thomson Reuters.
"On balance we believe that the gold is likely to enjoy stronger tailwinds than headwinds this year," it said.
Said Citi in a January 10 report: "The 5-6% rally in gold trading over the past month to $1,310-1,320/oz is consistent with the Citi 1Q'18 bullion price forecast. Market risks related to the yellow metal also seem to mostly favor the bullish side of the ledger," it said.
Predictably, the World Gold Council is heavily bullish on the prospects for gold.
It recently identified four investment trends for the metal during 2018 of which rising interest rates was the only likely negative market influence. Synchronised world economic growth, which really began to show up last year, was forecast to continue with more esprit this year. Although pleasant economic conditions tends to hold gold down, it would be a spur to demand growth it said, especially among the number one and number two gold owning nations in China and India respectively.
It also pointed to the likelihood of "frothy asset prices" as equities continue to charge upwards. "Many investors, however, are understandably wary of these asset valuations and, in the context of changing central bank policy, cautious about their risk exposure," it said. Market transparency, efficient and access in the gold market was improving which would make it easier for investors to hold gold, assuming they believe the council's sunny outlook for the metal.