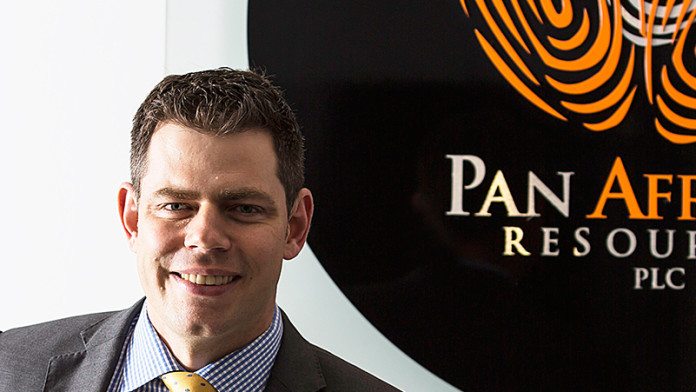 PAN African Resources is staring down the barrel at further retrenchments and possible shaft or mine closures should the dollar price of gold stay at current levels and the rand strengthens further against the US dollar.
That message became obvious from today's presentation of the Pan African interim results to investors in Johannesburg by CEO, Cobus Loots, who made a clear distinction between Pan African's lower cost and higher cost operations.
There is a definite possibility that the rand will strengthen further depending on the outcome of the moves to get President Jacob Zuma out of office. The rand has already risen from around R14.5/$1 to current levels around R12/$1 since Cyril Ramaphosa was elected president of the ANC in December.
In a worst case scenario for the South African gold producers, for example, if the rand should go to R10 to the US dollar, then Pan African will have to rely overwhelmingly on its low cost dump retreatment operations to survive, but its Evander underground operations and the Consort mine near Barberton, in particular, look seriously at risk.
The current gold price of $1,328/oz is equivalent to a rand gold price of R560,947/kg at the current exchange rate of around $1/R12. Pan African's overall all-in sustaining cost (AISC) for the six months to end-December was R545,908/kg making the company marginally profitable.
For the six months to end December, Pan African reported a mining profit of R103m (previous comparable period R316m) and a taxed profit of R58m (R250m).
The cost breakdown provided showed that the group's lower cost operations – consisting of the dump retreatment operations plus the Barberton underground mine – had a total AISC of R373,184/kg. But the higher cost operations – the Consort mine plus the Evander underground operations – had a total AISC of R683,873/kg. Breaking that down further revealed Consort's AISC was R761,562/kg with Evander underground at R673,444/kg.
Should the rand move to R11/$1, then the rand gold price at $1,328/oz will fall to R514,201/kg while at R10/$1, the rand gold price will decline to R467,456/kg.
Asked whether the Consort mine could be closed, Loots replied: "We have to be very careful in terms of commenting. What we have said is that we are engaging in terms of Section 189 with employees in both Evander and Barberton.
"We are not ruling out any initiative, but we have to work as a group with our labour, with the unions and with the government and get to where we need to be in terms of sustainable business. We are not unique. I can assure you the other South African gold producers are having similar discussions."
Asked: 'What happens to Pan African?' if the rand goes to ten to the US dollar, Loots replied: "We have a plan. The low cost operations are the underpin. We have to make sure the mainstays of our business remain intact.
"That's what we are focusing on at this point. We will do whatever we need to do to have a sustainable business. We can operate with the tailings operations and the Barberton underground at pretty much any gold price.
"We have to deal with the higher costs of operations. The wage discussions are going to be one hell of a thing this year. It's not just us. If the rand continues to strengthen – in fact, even at this number – the entire South African gold industry is in deep trouble."