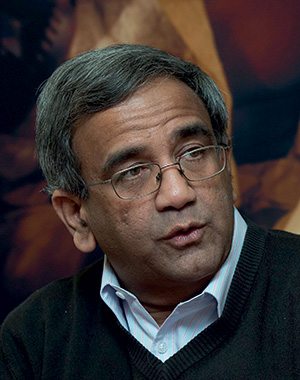 AngloGold Ashanti CEO Srinivasan "Venkat" Venkatakrishnan has resigned and will leave the group at the end of August to become CEO of diversified mining major Vedanta Resources Plc.
According to AngloGold chairman Sipho Pityana, "Venkat" – as he has always preferred to be called – informed him of his decision to quit over the weekend. Pityana commented , "I offer my heartfelt thanks to Venkat for his exceptional contribution over almost two decades and , in particular, the last five years at the helm".
Pityana said a global search for a Venkat's replacement would be undertaken with the intention of having the new CEO in place by the time of Venkat's departure. He said he expected a number of candidates from within AngloGold to apply for the job but added these potential internal candidates would be judged against potential external candidates from the wider international market.
On his watch since becoming CEO in May 2013 – shortly after a collapse in the gold price – Venkat has transformed the group dropping all-in sustaining costs by 16%; cutting overhead costs by two-thirds and chopping debt by one-third. He also oversaw the disposal of a number of AngloGold's underperforming South African mines.
But he is leaving at a time when AngloGold faces specific challenges that have to be dealt with.
These include the re-development of the Obuasi mine in Ghana; the confrontation with the Tanzanian government over how that country's new mining code and tax laws will affect the Geita mine and the long-running issue of whether AngloGold should split off its remaining South African operations to become a foreign-domiciled gold producer.
Key question is whether developments concerning these major strategic issues go "on hold" until the new CEO is appointed or the group continues to deal with them pro-actively under Venkat's guidance for the remainder of his tenure.
Asked about this Pityana replied, "we have a focus on creating long-term value for shareholders in terms of a strategy set by the board. That will continue." On the specific question of the possibility of AngloGold splitting out its South African operations Pityana replied that, "all options are on the table."
Turning to Tanzania and Ghana Pityana commented, "the engagements in those jurisdictions are driven by agreed strategies and programmes. We have strong, competent management teams in place which will continue to drive those strategies as agreed by the board."
Venkat joined the group as chief financial officer following the merger between the former AngloGold and Ghana's former Ashanti Gold Fields which created the AngloGold Ashanti group. He became CEO in 2013 following the departure of then CEO Mark Cutifani who was appointed CEO of Anglo American Corporation.
Venkat did not take part in a media conference call early on Monday morning at which Pityana handled all the questions. In a press release Venkat commented, "it has been a singular honour to lead a world-class team at AngloGold Ashanti over the past five years.
"The company has an excellent portfolio of assets, exciting new opportunities and a strong, deep bench of talent that will take it forward under its new leadership. I'd like to extend special thanks to the Board, my colleagues on the executive team and all employees at the Company, for their individual and collective guidance and support over nearly two decades.
"My special thanks to the chairman, Sipho Pityana, for his courageous leadership and expert guidance every step of the way."