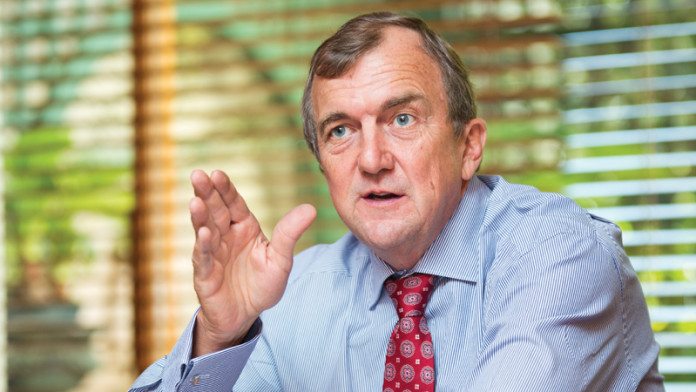 RANDGOLD Resources doubled its dividend, as expected, and kept to 2018 production guidance of 1.3 million to 1.35 million ounces of gold following a battling sort of a quarter in which production and, consequently, profit was down, but cash on hand increased.
First quarter production came in at 286,890 ounces, a quarter-on-quarter decline of 19% partly owing to labour interruptions at Tongon in Ivory Coast which would mean the mine was unlikely to make its 290,000 oz production target for this year.
Described by CEO, Mark Bristow, as being influenced by the "… occasionally turbulent socio-political nature" of Ivory Coast, he said the mine would nonetheless strive to recover some production in the remainder of the financial year. Tongon has three years of life left.
A lower contribution to production was also felt at Loulo-Gounkoto complex in Mali owing to changes in the mining schedule which affected underground grades. The company expected to improve production in the final three quarters of the year with production guidance of 690,000 ounces for 2018 remaining intact.
Against these setbacks, there was a stand out performance at Kibali, Randgold's Democratic Republic of Congo mine – an operation it shares with AngloGold and the DRC government. Production came in at 171,948 oz which meant the mine was on track to achieve annual output of 730,000 oz – a 22% year-on-year increase.
Lower production, however, led to an increase in the total cash cost per ounce to $720/oz from $627/oz in the previous quarter taking profit down to $66.5m from $87.1m in the previous quarter. Cash and cash equivalents grew 3% to $739.5m whilst the group put its faith in the remainder of the year by declaring a $2/share dividend, a 100% lift on 2016.
The earnings miss and lower production was cause for concern, said Goldman Sachs in a morning note. It said annualised first quarter production was 11% lower than guidance "… and as such we think this is likely to raise investor concerns". It added that this was the third consecutive earnings miss – compared to its internal forecasts – following similar under-performance in the third and fourth quarters of Randgold's 2017 financial year.
BMO Capital Markets described Randgold's quarter as having "multiple challenges", but it maintained its buy recommendation on the basis that earnings softness provided opportunity for investors to get into the stock. "Production is expected to remain weighted towards the second half with increasing output each quarter," it said. Randgold has kept to guided costs of between $590 and 640/oz and capital expenditure of $225m.
A long time critic of "quarteritis", Randgold CEO, Mark Bristow, sought to focus on the positives. "It was a very active quarter, in which we ramped up the underground production at Kibali, advanced the Gounkoto super pit project and the development of the Baboto satellite pit at Loulo, and prepared the Ntiola satellite deposit at Morila for mining," he said in a press statement.
"Kibali is well ahead of plan so we're pretty comfortable we can catch up on production probably coming in the upper part of guidance whilst costs will come in around the lower part of guidance," said Bristow in an interview with Miningmx.
IVORY COAST
Commenting on some of the labour-related problems at Tongon, Bristow said they had to be seen within the context of the Ivory Coast's 10-year civil war from which the country was still recovering. "Turbulence" among employees with a number of stoppages occurring began with contractors and spread through to full-time employees, Randgold said.
"The nation-building needs to work. There are people of working age now who have been starved of education," said Bristow. "There's also a situation where alot of the leadership in the country comes from the south [of the country which was not affected by civil war] and alot of social issues come from that.
"But the [Ivorian] government is sensitive to the situation. We've always had to manage issues. So at Tongon, we had to draw the line or risk the mine being damaged. You can't just keep on capitulating. We needed to get people to come to their senses and that's what we've done. There has been a good response from government," he said.