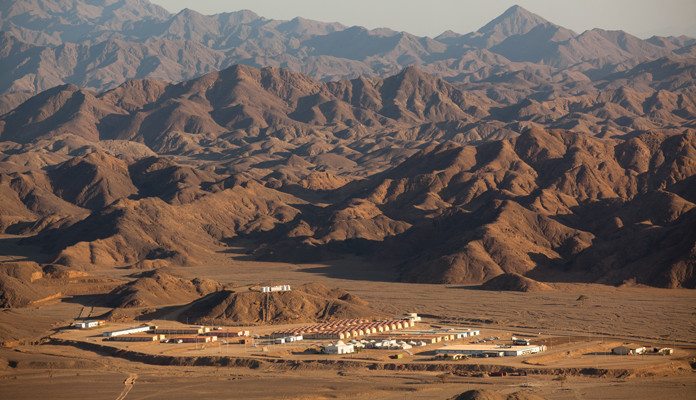 SHARES in Centamin, the UK-listed gold producer operating the Sukari gold mine in Egypt, were under pressure in London today, falling just over 6.5% in early morning trade and registering the stock's lowest point for just over two years.
Production for the second quarter of 92,803 oz was 25% lower year-on-year. It meant first half gold production was 7% lower compared to the corresponding interim numbers in the previous financial year. It produced 217,099 oz in the half-year period.
Andrew Pardey, Centamin CEO, told analysts in a conference call today that the outlook for the remainder of the year was improved, but that the Sukari underground section "… had to deliver". He said: "There are no records that we have to break in the second half to meet our production guidance".
Centamin stuck to its adjusted production guidance for its 2018 financial year of between 505,000 to 515,000 ounces of gold which compares to previous guidance of 580,000 oz. The first half numbers were affected by poor equipment availability at Sukari's underground operations and low grades at the open pit section.
"A weak 2Q as forewarned but perhaps even weaker than consensus had expected," said Investec Securities. "The soft quarter was due to the previously warned, temporary issues including open pit grade transition and underground equipment availability," it said.
Pardey said the lower grade transitional zone in Sukari's open pit would have been completely worked through by the end of this month.
The company said it would produce "… materially stronger production" in the second half of the year driven by "… continued improvements in grade from the open pit as mining progresses into the sulphide ore and an increase in high grade stoping tonnes from the underground".
"I am pleased to report progress throughout June in the open pit, where mining has begun to access improved grades as we are currently mining through the lower areas of the transitional zone and into the sulphide ore, which will be mined in the third quarter and onwards for the next four years," said Pardey in notes to Centamin's quarterly numbers.
"Our focus now remains firmly on delivering the underground operations back in line with forecasts and returning Sukari's production profile to a steady state," he said.
In May, Goldman Sachs lowered its forecast on Centamin's earnings before interest, tax, depreciation and amortisation (EBITDA) for the 2018 and 2019 financial years by 21% and 16% to $342m and $422m respectively. RBC Capital Markets, however, said the sell-down in Centamin shares at that time had been overdone.
"Centamin's share price reaction to what effectively pushes higher grade production back by three to six months, is overdone in our view," it said.