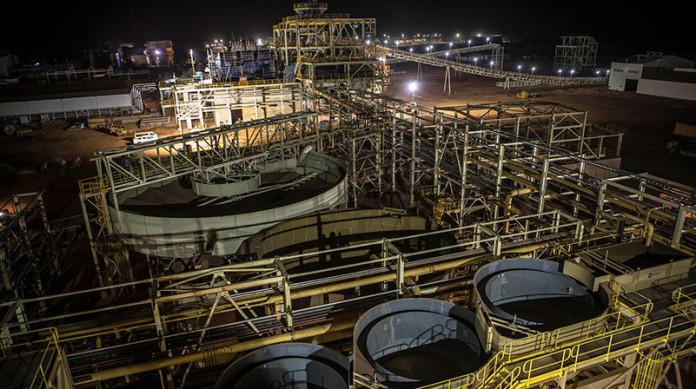 TORONTO-listed B2Gold posted net income of $70m for the first half of its 2018 financial year – a significant increase over the $15m it reported for the corresponding six months in the previous financial year.
The performance was owing to the contribution of Fekola, a gold mine it commissioned in Mali last year and which has seen B2Gold's production numbers increase to 479,777 ounces – some 7% or 32,560 oz above B2Gold's budget, and 89% or 225,593 oz higher than production registered in the first-half of 2017. Fekola's contribution of 226,786 oz was more than double B2Gold's next largest mine – Masbate in the Philippines – which had gold production of some 107,401 oz in the first six months of the financial year.
B2Gold said it was on course for consolidated gold production of between 920,000 and 960,000 oz for the 2018 financial year – an increase on previous guidance of 910,000 and 950,000 oz. "This represents an increase in annual consolidated gold production of approximately 300,000 oz in 2018 from 2017," the company said in its second quarter and half-year numbers announcement.
Consolidated all-in sustaining costs were $721/oz, below B2Gold's budget by $146/oz and $253/oz or 26% lower than the prior-year quarter, the company said.
On an adjusted basis, net income was $104m equal to some 11 Canadian cents per share compared to $32m or three cents per share which was reported in the first-half of 2017.
The company said it did not anticipate any difficulties repaying some $259m in convertible notes which fall due on October 1 this year.
At June 30, the company had cash and cash equivalents of $107m compared to cash and cash equivalents of $147m at December 31, 2017. Of a $500m revolving credit facility, some $275m was still available for draw-down – a number that was increased to $300m subsequent to the year-end after B2Gold repaid an additional $25m of the facility.
It said for the remainder of the year, it would also focus on achieving reserve and resource growth through exploration. An amount of some $56m had been set aside for exploration this year. Of this, brownfields exploration will make up approximately 80% of this budget "… focusing on drilling campaigns on existing projects", it said.
In the second quarter of 2018, the 2018 Mali exploration budget was increased by $4m (from $15m to $19m) to accelerate the current Fekola North Extension zone drill program, which is extending and infilling mineral resources to the north of the main Fekola deposit, the company said.
"These results and previous drill results indicate that the potential exists, subject to further drilling, to significantly increase open-pit resources and reserves, north of the current Fekola open-pit reserve," it said. The Fekola North Extension remains open to the north.
In addition to Fekola and Masbate, B2Gold also produces gold from Namibia (Otjikoto) as well as from Nicaragua from the El Limon and the La Libertad mine.