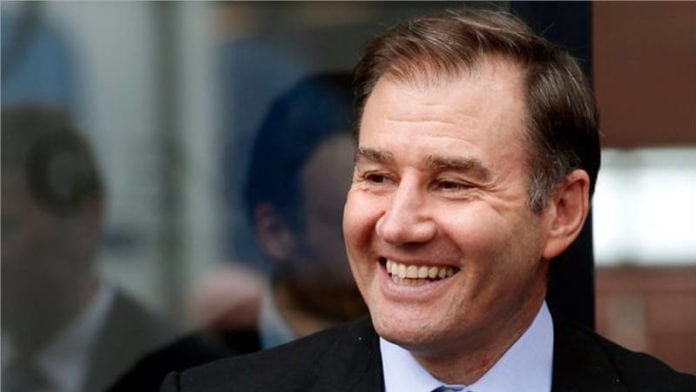 GLENCORE raised the prospect it could extend a share buy-back programme beyond the targeted $1bn as there weren't any promising merger and acquisition (M&A) opportunities.
Responding to analyst questions following its interim results announcement earlier on Wednesday, the Swiss-headquartered group also said a subpoena by the US Department of Justice (DoJ) would not affect either its lending costs, nor its approach to investment in any of the countries where its business activities may be investigated.
Said Ivan Glasenberg, CEO of Glencore, on the issue of share buy-backs: "We will continue to look at M&A opportunistically provided we get the right returns. There aren't massive opportunities out there and we've not seen anything on the horizon at the moment. Potentially the best thing we could do now is return money to shareholders or, through share buy-backs".
"That will provide best returns," he said.
Glencore has investment criteria of 15% internal rate of return for M&A, and its approach has always been opportunistic, Glasenberg said. The group has been involved in several M&A transactions lately in which it paid $1.3bn in cash as part of the consideration for a 49% stake in the Hunter Valley Operations of Yancoal, as well as the $1.7bn acquisition of Hail Creek, formerly owned by Anglo-Australian group, Rio Tinto.
Said Steve Kalmin, Glencore CFO: "I want to see how the world looks over the next month or two before making any decisions. But we don't have to wait until February. We may have an opportunity to say more [about shareholder returns] in November/December."
Glencore normally provides a market update at this time detailing capital expenditure plans as well as changes to its reserves and resources numbers. Kalmin later added in a call with media that he could even decide to "top up" the share buy-back in the fourth quarter.
The absence of any additional returns beyond the $1.4bn dividend payment due in September – and the $1bn share buy-back – disappointed some analysts especially given that net debt was reined in to $9bn, better than the $9.5bn consensus. In a note titled "Please Sir, I want more" by Investec Securities, the bank said Glencore's recent M&A activity may be behind its reticence to increase shareholder payouts. Investec nonetheless kept "a positive outlook" on the stock.
RBC Capital Markets said that although there was no "big bang" in respect of Glencore's interim results presentation, it noted that the company was trading at a substantial discount to its peers on a free cash yield basis with a strong balance sheet. "This should open up more compelling opportunities for buybacks into 2019 or other options to compress this valuation disconnect," the bank said.
DOJ MATTERS
Commenting on its attitude towards further investment in the DRC in particular, given its potential role in a possible DoJ investigation, and the change in Mining Code which will see Glencore pay higher royalties, Glasenberg said the group would proceed cautiously.
The call for papers by the DoJ would have "no effect" on Glencore's marketing business, or finance that would be available for marketing. "We will assess the risk carefully about going into DRC" or countries related to the DoJ subpoena, said Glasenberg. "We will do so as long as we do it correctly," he said.
The status quo in respect of an agreement to resume royalty payments to controversial mining magnate, Dan Gertler, would also be maintained despite the DoJ call for papers and reports. Beyond this, Glasenberg said the group was reluctant to comment. Glasenberg was particularly reticent to comment when asked by media as to the fitness of certain individuals regarding their appointment to the special board committee which was appointed to tackle the relationship with the DoJ.
DRC MATTERS
In respect of changes to the Mining Code promulgated by the DRC, the key short-term risk was paying a royalty on 3.5% of revenue generated in the country which compares to the previous royalty of 2.5% on net income as contained in the 2002 Mining Code. Glasenberg said Glencore was paying the new royalty rate "under protest" whilst assessing its options.
These could include a negotiated agreement on "a give-and-take" basis with the DRC government led by Joseph Kabila, or see Glencore resort to the legal route, most likely with "industry" as a number of other companies operating in the DRC such as AngloGold Ashanti, and Randgold Resources were similarly affected by the Mining Code changes. The imposition of a super profits tax which is also contained in the new Mining Code was too complex to anticipate at this stage, said Kalmin in response to analyst questions.