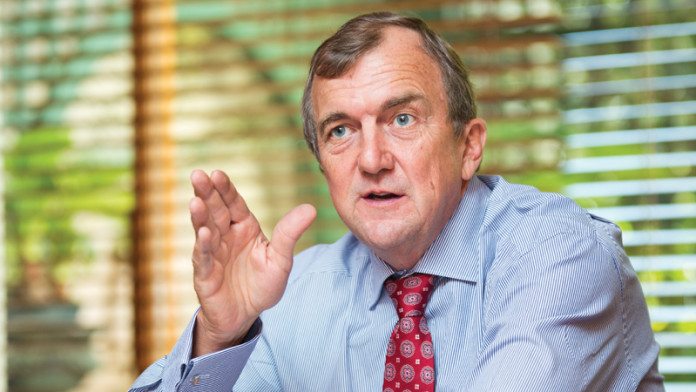 Randgold Resources has kept its full year-guidance on production and costs intact despite revealing  some slippage in the six months to end-June with gold production down 9.5% and total cash costs 19% higher.
Despite this,  Randgold is maintaining its full year 2018 guidance for gold production at  between 1.3m to 1.35m oz  with total cash costs of between $590/oz and $640/oz  which compares with total cash costs of $708/oz recorded at the interim stage.
Randgold CEO Mark Bristow commented, " we always said this would be a back-weighted year and we would  be playing catch-up in the second half.  Reasons include the ramp-up at Kibali and, more importantly, the push-back at Gounkoto which has affected the grade but the grade will improve in the second half."
The Kibali mine in the Democratic Republic of Congo (DRC) was the stand-out performer in the June quarter for Randgold pushing gold production up 17% to a record 201,742oz  from the March quarter. That level of output was also 43% higher than the June quarter of 2017.
Kibali's total cash cost dropped 11% to $651/oz  (March quarter – $735/oz) which Bristow said reflected the benefits of higher grade ore and lower power costs from the increased usage of hydropower.  Commissioning has also started on Kibali's third hydropower station at Azambi which is expected to be fully operational before the end of the September quarter.
Gold shares generally have taken a beating this year and Randgold is no exception  despite the strong case that Bristow continues to make for his group being way ahead of its competitors.
Randgold is currently down 35% from its 52 week-high which Bristow attributes to negative investor sentiment on risk in Africa generally with particular concerns about the situation in the DRC.
He commented, "That has hurt us but we are going to work that out. We are still comfortable we are going to find a workable solution in the DRC.   I  stand by my previous comments that 90% of the time the commercial logic will prevail in the DRC.
"You have to work something out otherwise you are going to high-grade this industry – particularly the copper industry  – and you will end up with nothing. I still believe common sense will prevail all round."
Bristow defended Randgold's  investment  case stating, " on dividend yield, we are the highest in the industry and, if you look at growth in dividends over the past 12 years,  there's no-one who comes near us.
"Then, if you look at profitability – our margin on  EBITDA (earnings before interest, tax, depreciation and amortisation) and our margin on cash operating cost – we are higher than anyone in the industry."
But he added Randgold was still looking at "global growth opportunities" despite its stated core strategy of organic growth through exploration.
He commented, " I want to grow and I think the (gold mining) industry needs to be re-arranged and transformed because the way it is being managed today puts the whole relevance of the industry at risk as (being) an investible part of the market.
"So we are looking hard at opportunities in the Americas and in Africa. The northern part of  South America  is an interesting place because it has the same rocks as we mine in West Africa.
"We are a seasoned and effective management team and we think this is a good time to signal that we are interested in pursuing opportunities that may exist to create value .  We think asset quality overrides jurisdiction.    It's all about value per share. That's the holy grail."
Bristow stressed this was  " a long term strategy" although he added, "the industry is under a lot of pressure."