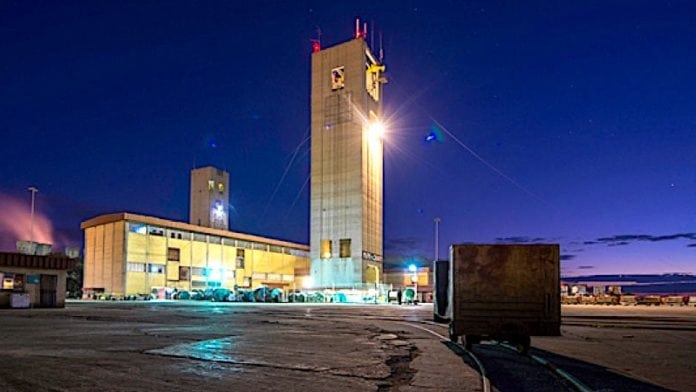 REDUCED life of mine plans and uninspiring business conditions in South Africa are behind R5.3bn in impairments due to be booked by Harmony Gold on Tuesday (August 21) when it will report full year share earnings more than 100% lower.
Shares in the company were just over 3% lower on the Johannesburg Stock Exchange reversing a month of price gains – up 11% – before the counter was smacked by the emerging market sell-off that hobbled the rest of the market.
The company's numbers were also negatively affected as the firm's derivative contracts, helpful in the past, started to unwind. Income from the structures – gold sold forward and currency hedging – came in at R100m in 2018 compared to R1.1bn in the previous year.
The outcome was share earnings falling to a loss of between 995 cents and 1,011 cents/share. In US dollar terms, the loss per share is expected to be between 68 and 84 cents/share which is more than 100% lower than the earnings of four US cents per share for the previous comparable period.
A currency translation loss of about R669m on US denominated debt was also registered in the year which compares to a gain in the 2017 financial year of R215m.
"The life-of-mine plans form the basis for assessing whether any impairment against the carrying value of an asset is required," said Harmony Gold. "These values are informed by a number of factors, including estimates of future gold prices and exchange rates and operating and capital cost estimates."
As a result, impairments were booked at Harmony's Tshepong Operations, Target 1, Joel, Kusasalethu, Unisel, Masimong, and Doornkop related to cost inflation and in anticipation of a low gold price of R535,000 per kilogram – equal to $1,250/oz at $13.30 to the rand – applied in the company's life-of-mine plans and the resultant impact on margins, it said.
And in somewhat ominous tones for the South African gold sector as a whole, Harmony said that "… low levels of merger and acquisition activity of resource companies in South Africa, and more specifically gold mining companies" had "substantially" reduced the value per resource ounce of its undeveloped property Target North, and Doornkop.
The write-downs don't have an effect on cash balances or cash flow and it wasn't all bad news ahead of the full-year results as Harmony CEO, Peter Steenkamp, provided evidence of once again improving the firm's operational performance.
The firm was to meet its production guidance for a third successive year producing 1.23 million oz and beating guidance of 1.18 million oz by 4%, according to a production update on July 23. There was also an increase in its underground recovered grade – 8% higher – representing the sixth consecutive year of grade improvements.
There was also another strong performance controlling all-in sustaining unit costs which would come in at R508,970/kg ($1,231/oz), beating annual guidance of R520,000/kg and also beating the all-in sustaining unit cost of R516,687/kg ($1 182/oz) reported for the June 2017 financial year.
In addition, the Hidden Valley reopening was completed ahead of schedule and below the budget stated in September 2016 of $180m.
Harmony said on July 26 that it would produce more than 180,000 oz of gold from Hidden Valley, located in Papua New Guinea mine in the current (2019) financial year. The mine reached commercial production in June.