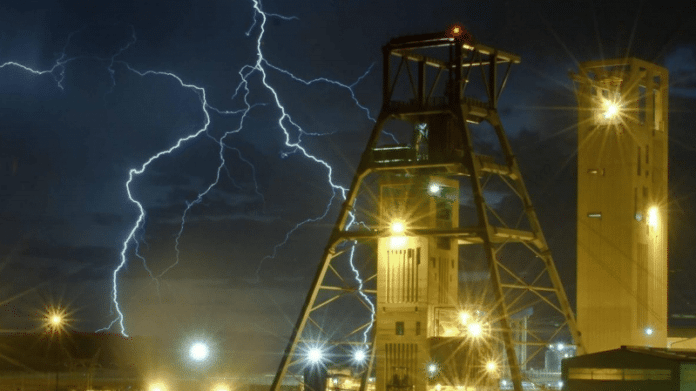 THE enigma concerning Gold Fields is this: how come a group with roots going back a century in deep-level gold mining in South Africa can be so successful in surface mining operations in destinations like Ghana and Australia, but cannot get its South Deep operation right?
It's a question which analysts, fund managers and shareholders are asking as they get more and more frustrated with the repeated setbacks at South Deep of which the latest was announced in April. (Updated again on August 14).
That (earlier update in April) cited a litany of problems including labour issues, lack of technical skills, inadequate underground support and poor equipment availability which resulted in yet another cut in forecast production.
The situation was viewed as extremely disappointing given forecast output had already been chopped back when the mine was "rebased" early in 2017.
It's an issue that also clearly gets under Gold Fields CEO, Nick Holland's, skin, in part because he believes too much attention is being paid to South Deep and not enough to the rest of the group.
And from one perspective he's right.
In the year to end-December Gold Fields' six international mines generated net cash flow of $484m. South Deep lost $60m so overall group net cash flow was $424m. Gold Fields also produced 2.2 million ounces of gold of which just 300,000 ounces came from South Deep.
But this is after ten years of effort and R32bn worth of investment into South Deep. The mine is still losing money and does not look likely to achieve a position of sustainable profitability for at least another three years until the bulk of mining operations transition into the newly developed 'North of Wrench' mining zone.
The contrast with the profits being made at Gold Fields' Ghanaian, Australian and Chilean mines is stark.
Holland attributes Gold Fields' foreign success to a number of factors, including strategies to maximise the use of local staff and workers as well as exploration programmes designed to extend the lives of the mines through subsequent brownfields development.
Gold Fields has also got it right time and again with its merger and acquisition strategy although its record is not perfect as shown by the Arctic Platinum project in Finland which was finally sold last year.
Holland cites the group's experience in Ghana, where it developed its first mine outside of South Africa, as critical.
"When we formed Gold Fields back in 1997, the Tarkwa mine in Ghana was an underground operation, but that's where we learnt how to run an open-pit mine.
"We initially brought in the expertise we needed, but we built production from the Tarkwa pit to as high as 800,000 oz annually at its peak. That put us in a strong position to buy other assets starting with the Damang mine.
"We also deliberately moved to a scenario where we ran the Ghanaian mines with Ghanaians. Expats are currently only about 4% of our workforce there and that was not always the case. The education system in Ghana is also second to none."
EXPLORATION
On exploration, Holland said there had been a major shift in strategy.
He commented: "Five or six years ago our approach was to go and look for the elephants on new frontiers and we would sort out our understanding of the countries later.
"The view now is to capitalise on our platform in the countries where we operate. We are there in Ghana. We understand the people, the politics and the mining code. We are doing the same in Australia and Peru, and there's enough there to keep us busy.
Over the past few years, Australia made on average about $250m a year in free cash. That's a very nice business to have, thank you very much. It will keep going.
"I do not want to get too big. The sweet spot for us is production of about two million to 2.5 million ounces a year from a maximum of ten mines and then we will just continue to upgrade the quality of those operations."
Gold Fields went into Australia in 2001, buying two mines with just four years of reserves and paying $235m for what were described as 'Western Mining cast-offs'.
Said Holland: "We were hammered for that. So, what have we got 17 years later? We still have four or five years of reserves left at the two mines, but we have mined some eight million ounces of gold out of them; we have made a lot of money; and we still see significant prospectivity.
"But you do have to spend money. We are spending A$80m to A$85m annually on exploration, but that is still very cost effective when it comes to replacing 900,000 oz of production annually. Buying ounces in operations in Australia would be three to four times more expensive.
"Over the past few years, Australia made on average about $250m a year in free cash. That's a very nice business to have, thank you very much. It will keep going."
HAMMERED
So, why is Gold Fields overall not getting recognition for this success, but instead getting a hard time from the analysts over South Deep?
Holland replies: "We have analysed that. Our view is South Deep is a drag because it's losing money and eroding value. It has missed its targets a number of times over the years.
"The analysts also look at our short reserve life in Australia and their assessment is we cannot keep on going the way we have there; it's going to come to an end. Also, for 2017 and 2018, we are deliberately in a re-investment phase where we are likely to spend more than we make because we are building two new mines."
But why can't Gold Fields get South Deep right?
"Initially it was the technology. We had to simplify and change the mining method. Where we are still falling short is in our ability to execute long-hole stoping at depth. It requires a particular skill set and our ability to do it is not there at this stage. We are upgrading our training, but it's a long and slow process.
With the money we have put in, I don't think this is something we should just walk away from.
"We also have not had a stable management team on the mine. This is a five-year journey, but we have not had a team for longer than two years."
What the analysts and the fund managers invested in Gold Fields – who Holland acknowledges are getting 'frustrated' – want to know is what will it take to get Gold Fields to actually throw in the towel on South Deep if things keep going pear-shaped?
"I think if we continue to lose significant money every year.
"We are in the business of running profitable mines. I don't want to lock myself into (a time-frame) such as it's next year or the year after, but we have to see prospects of success in the short to medium term otherwise we are going to have to think about whether this is for us.
"But I say that against the background of opening up the north of Wrench which is a nucleus of 10 million ounces. I think we have to give that a go.
"With the money we have put in, I don't think this is something we should just walk away from. We should certainly work out how to make it profitable over the long term even if it's not as profitable as we originally thought it would be ten years ago," he said.