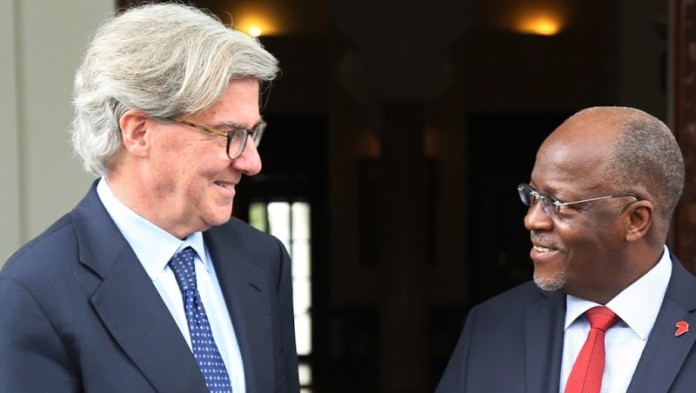 AN undertaking by Mark Bristow, CEO of Randgold Resources, to resolve the 19-month dispute between Acacia Mining, the subsidiary of Barrick Gold with which his company is to merge, and the Tanzanian government may have just become trickier to perform.
Acacia said today one of its employees, a South African national, had been charged by the Tanzanian Prevention and Combating of Corruption Bureau (PCCB) in respect of his past activities with the Land Task Force (LTF) – an entity founded to handle property transactions between the Government of Tanzania (GoT) and North Mara Gold Mine Ltd (NMGML), one of Acacia's three gold mines in the East African country.
The charge adds a layer of complexity to the dispute that Acacia already has with the GoT regarding blocked exports of mineral concentrates from two of its other mines – Bulyanhulu and Buzwagi. The GoT alleges Acacia has dodged tax for more than two decades worth tens of billions of dollars, according to its calculations.
The dispute has forced Acacia to put the underground operation of Bulyanhulu into mothballs and, at one point, severely threatened its going-concern status. Acacia has since taken the matter to the International Court of Arbitration.
Acacia said today it hoped the larger dispute could be resolved through a negotiated settlement – a process Bristow said he intended to enter. Barrick has been involved in discussions with the GoT that have yet to become substantive. Commenting on the dispute following the announcement of the proposed Barrick Gold/Randgold merger on September 24, Bristow said it was necessary to "… sort it out".
He later told Miningmx in an interview that: "We need to sit down and talk with all parties," adding that he was in favour of investment in Tanzania and that his company had previously held discussions with the GoT regarding potential investment. "Right now … I am just an interested by-stander. There's still a lot of work to be done to get the transaction closed," Bristow said of the merger set for shareholder vote on November 6.
This latest challenge – which is part of Tanzanian president, John Magulfuli's ongoing campaign to stamp out state-sponsored corruption – can only be seen as a worsening of relations between Acacia and the GoT.
Whilst the charged Acacia employee was not involved directly in the LTF, he was nonetheless responsible for signing off cheques for approved payments made by NMGML, including one to "… an agreed LTF process". Two former government employees have also been charged in connection with receiving these specific funds from NMGML.
In addition, a former employee of NMGML has also been named in connection with the transaction, but no charges have been levelled, Acacia said. The employee left the firm in 2014. The charged Acacia employee has pleaded not guilty and has been granted bail.
Acacia also said the PCCB had laid additional charges against a number of government officials in connection with their relationships with NMGML and North Mara, one of which also relates to the LTF exercise, but no further charges have been laid against NMGML or any of the group's employees.
"[H]istorical allegations and issues around the creation and implementation of the LTF at North Mara from 2013 to 2015 have been subsequently investigated over the past four years, including by the PCCB itself since early 2017, and NMGML and the company have been working with and assisting the responsible authorities throughout," said Acacia.
"The company is committed to running its business to the highest ethical standards and is taking this matter extremely seriously," it added.
Commenting on negotiations between Barrick Gold and the GoT, Acacia said that it continued to engage with the parent company, adding that "… the interests of all stakeholders are being protected through the international arbitrations commenced in respect of its Bulyanhulu and Buzwagi businesses, with a number of procedural steps completed and in which the GoT has been fully participating".
Acacia's operations at North Mara, Bulyanhulu and Buzwagi remain unaffected, it said. Commenting on third quarter production numbers, Acacia said earlier this month that it hoped to beat previous guidance by producing more than 500,000 ounces of gold for the 2018 financial year which ends on December 1.