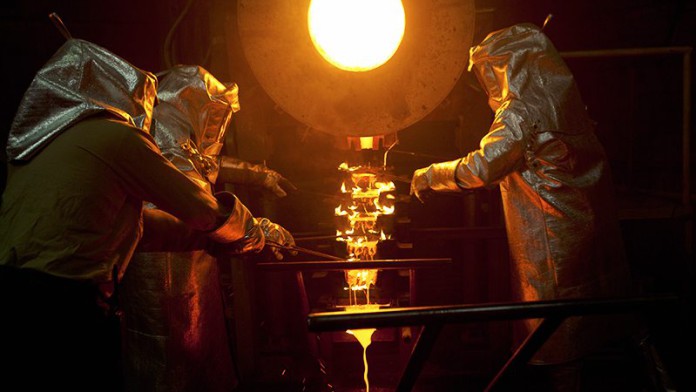 B2GOLD, the Toronto-listed gold production firm, said it intended to publish results of a study into expanding its Fekola gold mine in Mali, due in the first quarter of 2019 whilst it was also finalising the expansion of its El Limon mine in Nicaragua.
Since it was commissioned ahead of schedule in September last year, Fekola has been transformative for B2Gold. The mine's 107,002 ounces of gold production in the third quarter of this took total production for the three months to 242,040 oz, an increase of 78% of the third quarter of the 2017 financial year.
On a year-to-date, nine month basis, record consolidated production of 721,817 oz was registered – 5% above the original budget, and 85% higher than the 332,005 oz produced in the first nine months of the previous financial year.
B2Gold's total production numbers for the nine months was also assisted by strong performances from Otjikoto, a mine in Namibia, and the Masbate mine in Philippines. On the basis of its year-to-date performance, Masbate's production guidance has been increased to between 200,000 and 210,000 oz compared to 180,000 and 190,000 oz that was previously forecast.
For the third quarter, consolidated gold revenue came in at $324m, an increase of 110% over the same period of last year. Record consolidated year-to-date gold revenue of $953m on record year-to-date sales of 749,102 oz was produced at an average gold price of $1,272/oz, the company said.
Commenting on its expansion plans for Fekola, B2Gold said: "Based on extensive exploration drilling, the company is completing a new mineral resource for the Fekola deposit, including a portion of the Fekola North Extension".
It said it was also "… conducting engineering and other technical studies to ascertain the potential for expanding the current Fekola Mine, with initial results expected to be released in the first quarter of 2019". Owing largely to Fekola, 2018 consolidated gold production was forecast to be at the upper end of B2Gold's guidance range of between 920,000 and 960,000 oz at an all-in sustaining cost of between $780 and $830/oz.
The strong production numbers have enabled B2Gold to cut into debt. Subsequent to the close of the third quarter, it repaid in full its $259m in convertible senior subordinated notes which were to have matured on October 1.
B2Gold posted net income of $70m for the first half of its 2018 financial year – a significant increase over the $15m it reported for the corresponding six months in the previous financial year. At June 30, the company had cash and cash equivalents of $107m compared to cash and cash equivalents of $147m at December 31, 2017.