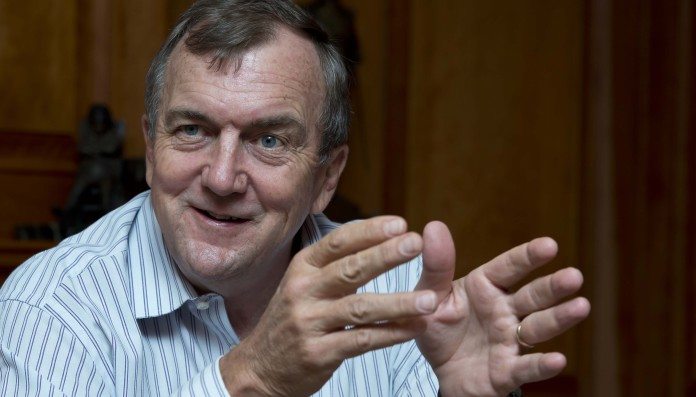 MARK Bristow, the founding CEO of Randgold Resources, insists alignment on business principles will be the unifying force that smooths over the obvious differences between himself and John Thornton, executive chairman of Barrick Gold, the $13bn Canadian gold miner which on September 24 unveiled a blockbuster merger with Randgold.
Described by the Financial Times as "the odd couple", Bristow and Thornton strike different personal notes. Thornton, a former Goldman Sachs Group chairman, and with a disaffection for commercial flights, moves between appointments in Barrick's Gulfstream V jet, according to the Globe & Mail.
In an obvious effort to seed the market, Thornton conducted an interview with the paper, 10 days prior to the transaction announcement at the Denver Gold Forum. It took place in the super exclusive Pasley-Tyler club on Berkeley Square in London's Mayfair, one of the capital's plusher districts.
At the time of Miningmx's interview with Bristow – an executive who claims not to have an office – he was making his way back to his New York hotel room where he'd left his other mobile phone. You could hear him muttering to hotel staff: "Room number …? ". Pause … "I'll have to phone you back," he said.
The two have completely different styles. Bristow is rough and ready, off-the-cuff definitely, and he rarely – if ever – checks himself in interviews. Thornton is, according to reports, media shy. To Thornton's old tie banking pedigree, Bristow, a geologist, is on-site and tends to no tie at all where it can be helped. Randgold is largely no frills whereas Barrick long bid adieu to the entrepreneurial esprit of its late founder, the Hungarian-Canadian Peter Munk – an ethic to which Thornton is hoping to return the company, hence the proposed merger with Randgold which he has described as a "back to the future" moment for Barrick.
The selling point of the proposed merger – which Bristow said was briefly run past largely supportive shareholders during the weekend prior to its announcement – is that Randgold will bring its know-how of having already operating a highly tuned cash flow generating machine, and in districts of Africa that are want to throw up the occasional political crisis. For its part of the bargain Barrick contributes three of five overall 'tier one' assets the merged company will contain.
Barrick also brings a relationship with Chinese companies Zijin and Shandong, investors interested in providing capital that Thornton insists will help de-risk the combined entity, especially given its African exposure. Randgold's mines are exclusively in Africa (all of which Bristow & Team scoped out and developed in-house). Barrick's contributes its 64% Acacia Mining, a business listed in London.
"One of the things I modelled Randgold on when we started was the early Barrick," says Bristow. "That Barrick was fast-running that had an owner-operator structure and focused on profitability."
Following a series of discussions with Thornton, that intensified from the beginning of this year as the notion of a merger took shape, Bristow learned of the American's "shock" at how poorly run Barrick had become. As a result, Thornton's trail-blazing reforms at Barrick, and a reticence to preserve sacred cows mirrors Bristow's own approach. The two had previously been introduced through a mutual friend. "He called me up and said there was a guy I should meet," says Bristow.
Bristow then landed up in New York. "Everyone was sweating at the time," he said, a reference to the then gold price of just over $1,000/oz. It was at that time, Bristow turned his mind to a transaction with a major, but no-one was interested. "I'd spoken about rationalising the industry for years, since about 2011," he says. "The gold industry had halved in size and investment flows were down substantially with investors moving over to ETFs, but nobody wanted change".
Thornton had been at Barrick since 2014. Concerned by the value destruction he set about a plan to cut unprofitable ounces, a process that has seen Barrick reduce production and reserves in favour of running only world class assets.
According to the Globe & Mail, traditional gold investors don't like it, preferring scale and optionality, hence the weakness in Barrick's share price. For his part, Thornton would prefer loading up the firm's share register with more generalist investors. The merger with Randgold is an attempt to forge a new type of investment case, combining the scale of the two entities with a focus on free cash flow. Shares in Barrick and Randgold have performed relatively strongly since the day of the merger announcement.
What though of the potential working relationship with Thornton?
"Since the beginning of the year, we have spent at least 30 full days with one another," says Bristow. Ultimately, the two are linked by their respective financial and reputational exposure in their companies. At the time of writing, Thornton took his ownership in Barrick to some five million shares after buying $25m worth on October 1. Bristow owns 0.9% in Randgold, equal to some £50m, just under R1bn.
"It's not in our interests to do something that won't work. I am a very significant investor. Virtually my entire net worth is wrapped up in this merger," Bristow says. As for not having an office, Bristow intends to operate as he always has. "That's the deal," he said.