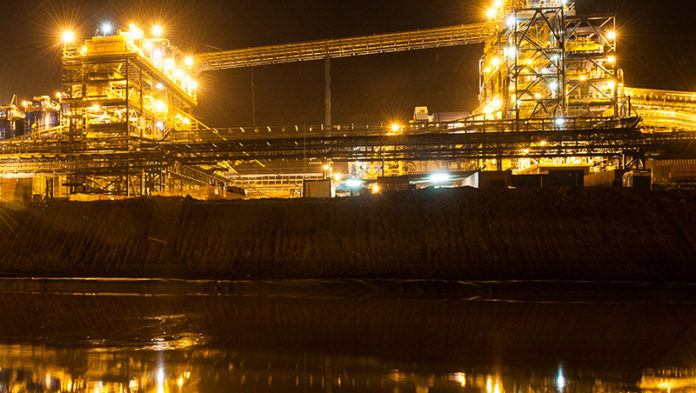 RANDGOLD Resources put its best foot forward one day ahead of a crucial shareholder vote on its proposed merger with Barrick Gold, posting higher third quarter gold production, a lift in cash, and a consensus beat on profit despite a strike at its Tongon mine in Côte d'Ivoire during the period.
The key metrics showed a 16% improvement in group total cash cost per ounce at $586, a 25% increase in profit of $73.2m and cash on hand rising by 8% to $654m. "This is the first beat by the company in more than five quarters and should be taken positively today," said Goldman Sachs in a morning note.
BMO Capital Markets analyst, Andrew Breichmanas commented that the third quarter from Randgold was solid, and that it "… should reduce concerns about the company's ability to reach its full-year production guidance and demonstrate the basis for increasing the proposed dividend".
Randgold announced on October 31 that it would increase its planned 2018 dividend to $2.69 per share dividend – an increase of $65m on the original dividend permitted by the company. The lift in third quarter cash provides evidence that the improved payout was more than just a statement of intent ahead of the Barrick deal, given that Barrick had also announced a higher-than-planned third quarter dividend.
Barrick shareholders overwhelmingly approved the proposed merger with Randgold yesterday (November 5) with 99% voting in favour of increased shares which is the necessary mechanism to affect the transaction.
In September, Randgold reset Tongon's production for the year at 230,000 oz, well off the 290,000 oz forecast at the onset of the year owing to a wage dispute process that was disrupted. Production resumed at the mine last month. Nonetheless, Randgold kept full-year production guidance unchanged at between 1.3 million to 1.35 million oz.
Bristow said the negatives from Tongon were offset by a strong performance at its 40%-owned Kibali in the Democratic Republic of Congo which posted fresh production records while Loulo-Gounkoto also delivered "increases across the board".
"Our previous forecasts of 1.27 million oz at total cash costs of $665/oz reflected a level of conservativism following a weaker first half, but following strong Q3/18 results we have more confidence that targets can be achieved and have updated our forecasts accordingly," said BMO Capital Markets' Breichmanas.
Present conditions notwithstanding, Bristow clearly had an eye for the merger, saying in the third quarter commentary that the group was focused on project growth.
A public participation process had started at its Massawa project in Senegal as part of a feasibility study into the project which has not yet found a permanent home in Randgold given questions about it reaching the minimum three million oz reserve target. Feasibility studies for Loulo 3 and Kalimva-Ikama at Kibali had also begun, the latter focused on replacing reserves with similar quality for a 10-year period.
Commenting on the proposed merger, Bristow said the combined company would take "… a very critical look at our asset base and how we run the business, and be prepared to make tough decisions", thus making today's third quarter numbers potentially the end of an era when some of the firm's staple gold may be removed from the overall portfolio.
"By employing a strategy similar to the one that proved very successful at Randgold, but on a larger scale, the new Barrick group will leverage some of the world's best mines and talents to create real value for shareholders," said Bristow.
New Barrick is expected to have a market capitalisation in excess of $18bn, annual revenue of approximately $9.7bn and aggregate adjusted EBITDA of approximately $4.7bn.