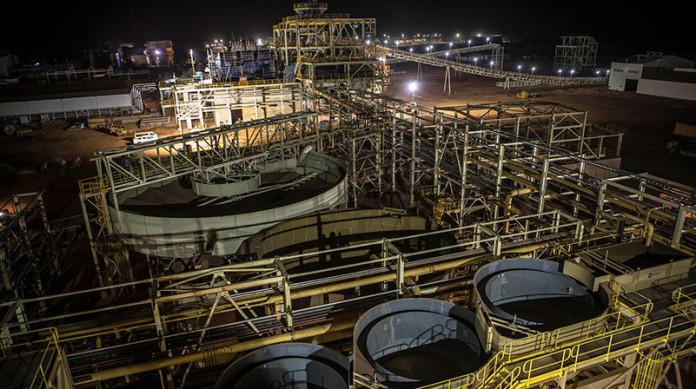 B2GOLD estimates an expansion of its Fekola gold mine in Mali can take it through the psychological million ounce a year gold production mark at a capital cost of $50m which will be financed through existing cash flow and repaid in a year.
The findings of a preliminary expansion assessment (PEA) published today indicate that utilising additional resources discovered in October the mine could produce 550,000 oz per year between 2020 and 2024 and 400,000 oz/year between now and 2030. This compares to production in B2Gold's 2018 financial year of 439,068 oz and forecast production in the current financial year of between 420,000 and 430,000 oz.
This would be achieved by increasing throughput of high grade ore by 1.5 million tonnes a year to 7.5 million tonnes annually. "As a result of the project and mineral resource expansion, the Fekola Mine will produce more gold over a longer life, with more robust economics and higher average annual gold production, revenues and cash flows than the previous life of mine," the company said in a statement.
It cautioned, however, the study to expand the mine was preliminary. But all things being equal, production from Fekola in the first five years after its expansion would take B2Gold to total annual production of about 1,05 million oz based on 2019 estimates.
Other facets of the PEA are an increase in the net present value of Fekola of some $500m and forecast life of mine pretax net cash flow of about $2.8bn. The revised life of mine operating cash cost and all-in sustaining cost (AISC) would be between $500 and $700/oz respectively. During the initial five-year period of higher production, the AISC of Fekola would be about $630/oz. B2Gold has guided to AISC of $835 to $875/oz for the group during the current 2019 financial year.
The PEA assumes a gold price of $1,300/oz.
The company said it was also assessing various optimisation alternatives it may have including processing gold-bearing ore from B2Gold's Anaconda project which is situated north of Fekola, as well as installing solar power at the Fekola premises and "… various tailings and waste disposal strategies".
This process would continue through the second quarter of this year and would be incorporated into a revised Fekola life of mine plan which is expected to be available by the end of the first quarter next year.
JPMorgan analyst, John Bridges, said in a report that although B2Gold missed its earnings target for its 2018 financial year – it reported net income of $45.1m for the 2018 financial year, a decline on the $62.5m in 2017 partly owing to impairments – there was little for investors to worry about considering the firm's cash flow generation potential.
"We see no reason for investors to worry about the company given its strong prospective cashflow which is allowing it to reduce debt and re-invest in more exploration," he said.
"BTG [B2Gold] is one of a handful of stocks which is trading near all-time highs relative to the HUI [New York Stock Exchange gold index] gold and silver index," said Bridges.
"Rather than being a worry, we see BTG (and others) success against the sector index being due to the market correctly identifying the gold vehicles with fuller gas tanks in a sector where many are struggling to find their way to the next gas station," he said. "We feel the stock should remain strong on this result."