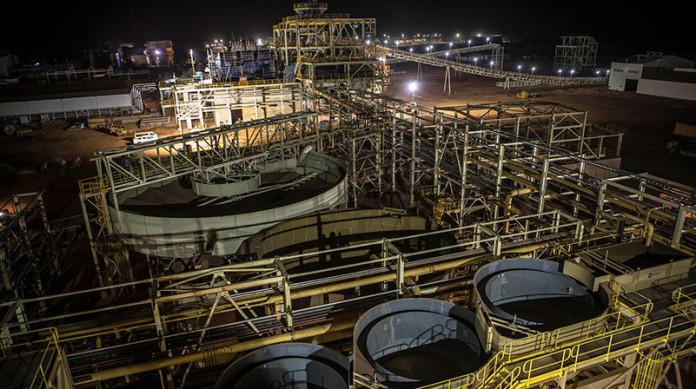 B2GOLD produced 230,859 ounces of gold in the first quarter of its 2019 financial year which was marginally down on production in the first quarter last year, but high enough for it to be tracking guidance of between 935,000 and 975,000 oz for the full year.
Production for the first half of the year was expected to come in at between 436,000 and 456,000 oz. Assuming an average gold price of $1,300/oz for the period, cash flow for the year from operations is expected to total $410m.
B2Gold produces gold from its flagship Fekola mine in Mali as well as Otjikoko in Namibia and the El Limon and Masbate mines in Nicaragua and Philippines respectively. Gold from Fekola totalled 110,349 oz in the quarter, some 6% higher than budget.
Consolidated gold production for 2019 is expected to be weighted towards the second-half of the year – about 14% higher than the first-half – due to the planned development of open pits in the first-half of the year, and subsequent ore production from those pits in the second-half, the company said.
Consolidated cash costs are projected to remain low in 2019 with cash operating costs forecast to be between $520 and $560 per ounce and all-in sustaining costs forecast to be between $835 and $875 per ounce.
B2Gold said on March 27 that an expansion of its Fekola gold mine could take it through the psychological million ounce a year gold production mark at a capital cost of $50m which will be financed through existing cash flow and repaid in a year.
The findings of a preliminary expansion assessment (PEA) indicated that utilising additional resources discovered in October, the mine could produce 550,000 oz per year between 2020 and 2024 and 400,000 oz/year between now and 2030.
This compares to production in B2Gold's 2018 financial year of 439,068 oz and forecast production in the current financial year between 420,000 and 430,000 oz.