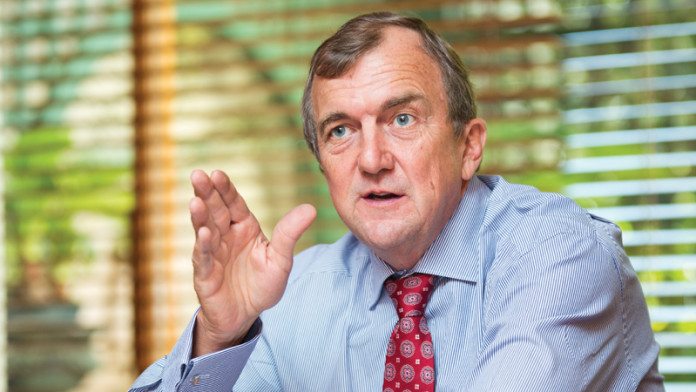 BARRICK Gold CEO, Mark Bristow, has criticised Acacia Mining for failing to cooperate in the Canadian firm's efforts to end a two-year dispute over unpaid tax in Tanzania.
"It's a difficult situation," said Bristow in an interview with Miningmx. "Acacia is not cooperating. Their board is moved to say we stand back from any vote, but Acacia can't help itself," he said. "The government [of Tanzania] is sensitive to their messaging."
The Tanzanian government claimed in 2017 that Acacia owned it $190bn in unpaid taxes, as well as interest on the tax and penalties incurred. It subsequently blocked exports of concentrate-in-gold from Acacia's Bulyanhulu and Buzwagi mines in Tanzania. As a 63.9% shareholder in Acacia, Barrick was asked by the government to resolve the dispute.
Barrick suggested Acacia pay $300m in a "goodwill settlement" as well as share profits from the gold mines with the government in a joint venture – a scheme described as a 'framework agreement' that Bristow supported when he was appointed CEO of Barrick in January. Acacia, meanwhile, established an independent committee to assess potential resolutions ahead of recommending actions to shareholders who would then will vote on the potential resolution.
"We want to vote on our shares, but Acacia is against it," said Bristow, who added that he was also waiting on the Tanzanian government to embrace Barrick's suggested agreement. "This is not something we can sign; we can only facilitate," said Bristow. "The process has gone on too long and the assets are being harmed. That's the concern."
The UK Listing Authority (UKLA) would "opine" on the parties that would be allowed to vote on an Acacia committee recommendation, but Bristow said "… Acacia could influence that". He added that without embracing Barrick's framework agreement ".. what could they do? They can go on a very public court process [through the International Court of Arbitration]".
Bristow was commenting following the publication of Barrick's first quarter results in which production came in at 1.37 million ounces. The numbers are not strictly comparable owing to the merger last year of Barrick's assets with Randgold Resources, the company Bristow founded. Net earnings came in at 6 US cents/share. It paid a 4c/share quarterly dividend.
Much of the bedding down process related to the merger was completed including identifying assets that would not be non-core.
Bristow said, however, that whilst some of the non-core assets would be sold outright "because there are strong buyers for them", others would be partly disposed on a joint venture basis. "It's important to be sensitive to the stakeholders in this process," he said in reference to mine communities and governments.