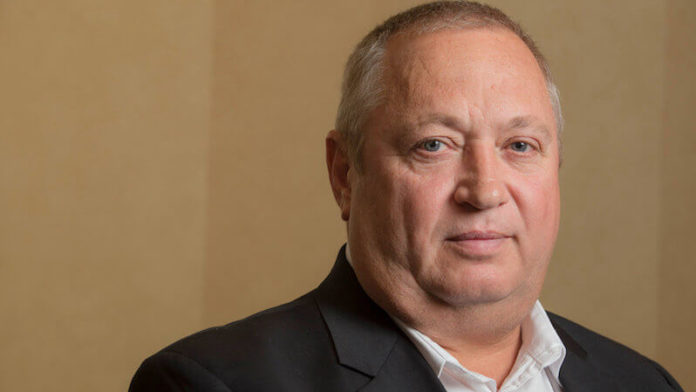 Neal Froneman, CEO of Sibanye-Stillwater, has fought off a five-month strike, added R3bn to the balance sheet, restructured the gold division and concluded a merger with Lonmin … and we are only half way through 2019. Where next for the serial dealmaker?, asks ED STODDARD.
NEAL Froneman, CEO of Sibanye-Stillwater, and Joseph Mathunjwa, the leader of the militant Association of Mineworkers and Construction Union (AMCU), have something in common: they both have a passion for and play musical instruments.
"I play the keyboards and recently I have learned to play the drums," Froneman told Miningmx in an interview at his office on the West Rand. When told that Mathunjwa, a devout Christian, has played the trumpet in a Salvation Army band, Froneman quipped: "Maybe we should jam together?"
That prospect seems unlikely, not least because the pair hardly gel. In their very different ways, the two men have had towering roles on the South African mining stage the past few years. And Froneman seems set to take more of his shows outside of South Africa in coming years, muting the influence of Mathunjwa on Sibanye's balance sheet, revenue flows and ultimately the company's share price.
In spite of his blunt manner, Froneman is not one to shoot from the hip. But he does shoot straight, which is fitting for someone whose hobbies include long-distance target shooting with heavy-calibre rifles.
His quarry in the corporate world is big targets, such as the palladium-rich Stillwater operation in the US state of Montana, the Gold Fields' spin-off acquired in 2017. And like a good sniper, if the deal doesn't have the prospect of adding value to shareholders, he won't pull the trigger. The stakes in his view are just too high to miss.
"If we cannot find value-creation opportunities, we won't do it. Because that's what it's about, it's not about the strategy per se, it's about a strategy that gives you a competitive edge and gives you value for all your stakeholders, particularly your shareholders. We believe our entry into PGMs has created huge value," he said.
TODAY STILLWATER, TOMORROW BATTERY METALS?
The Stillwater acquisition is the most obvious case in point. "We paid just over $2bn for Stillwater, which at today's basket prices is worth $6bn," Froneman said. Stillwater now accounts for 80% of the company's value. If Sibanye was still focused on its original operations, Gold Fields' non-core gold assets in South Africa, Froneman said the share would only be valued at around R7 given current prices.
Speaking to Miningmx in late May, Froneman maintained that Sibanye's share price, which was around R11 to R15 at the time, was underpriced, with the company's underlying value such as Stillwater not yet fully reflected in it. It has fallen around 30% since December 2017, when the bid to acquire Lonmin was first announced.
"It is hugely undervalued at the moment because of what has occurred over the past year to 18 months," Froneman said, referring to a pair of safety incidents in 2018 at its gold mines and the five-month AMCU gold strike.
It's a very logical extension to start thinking about the battery metals as the next phase of growth
In May, according to Thomson Reuters' data published on the website Marketscreener, the consensus target price for the share from the average of nine analysts surveyed R18.20, so the market seemed to broadly hold that view at the time.
"It's our job as management to get the value into the share price. We know exactly how to do it and we will do it and we will demonstrate that that was a value-added strategy," Froneman said.
That includes the possibility of going into battery metals to tap into the fast-growing electric vehicle and related markets. Sibanye has acquired SFA (Oxford), an analytics company, to do the due diligence and number crunching to see if it will be worth while to take the dive.
"It's a very logical extension to start thinking about the battery metals as the next phase of growth. It's those high-tech metals that are going to be part of the industrial revolution 4.0. It means as a mining company we are moving in the direction of the industrial revolution 4.0 in terms of high-tech metals," Froneman said.
If there are none to be had, Sibanye won't take the plunge.
But it seems a good bet the company will. Froneman is not the kind to enlist advice and after two years decide the market it has examined is not worth sinking capital into.
And there is no question that Sibanye would like to further reduce its exposure to South Africa's volatile social, labour and political environment – though battery metals can also raise red flags on that front if the pursuit of commodities such as cobalt and lithium takes a company to the likes of the DRC or Zimbabwe.
"We are completely open-minded as to where we will grow our business. We will grow our business where the best resources are," Froneman said.
In terms of jurisdictions, Froneman is certainly happy with the US and North America more widely.
"It's been an absolute pleasure to do business in the US. Within a week of announcing Stillwater, consular officials paid us a visit, thanked us for our investment, and offered any help that we needed in terms of operating. That was during a time when our minister being minister (Mosebenzi) Zwane we hadn't seen for a year and couldn't get to see. So it's like chalk and cheese."
He said Sibanye still has regular interactions with US government officials. "Do airline schedules affect your ability, do immigration constraints limit your ability, what can we do to help?" are the kinds of questions they ask.
THE DIVIDEND QUESTION
Froneman is hoping to start returning cash to those shareholders sooner rather than later. At its inception, the company was seen as a "dividend play," with mature assets that were generating a steady cash flow.
That dividend stream, which had made the company an investor darling, was abruptly turned off for the 2017 financial year when Sibanye's acquisition of Stillwater coincided with impairments including a hefty cash provision for the industry's settlement over silicosis.
"We will start paying dividends when we see significant deleverage. Our estimates are that based on 2020's production year based on current commodity prices we should be in a position to pay dividends based on 2020's performance. It is one of our priorities to deleverage the company with a view to returning cash to shareholders. And seeing the value flow back to the share price," Froneman said.
Another passionate hobby of Froneman's is taking high-performance vehicles and tinkering to get more power from them.
Our estimates are that based on 2020's production year based on current commodity prices we should be in a position to pay dividends based on 2020's performance
"I enjoy working with my hands and especially working on cars and improving their performance. I have nicely set up workshops that I enjoy. I make fast cars faster. I enjoy high-performance cars," he said.
It remains to be seen if he can get more performance out of Sibanye. There are more uncertainties in the market than there are in a typical car engine, especially one that is not an old lemon. Still, there may be clues there to his strategy. Sibanye is unlikely to pick up assets that are not "high performance".
If Froneman's choice of cars and target rifles is anything to go by, then the company is looking for something along the lines of Stillwater: a model with high grades, low costs, a long life, and good prospects for demand. Don't expect the next acquisition to be an old clunker.