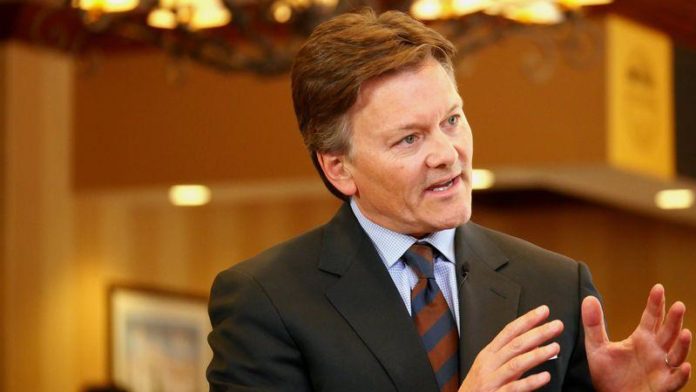 "FULL disclosure: I initially had some sleepless nights about what I had bought in to." So Kelvin Dushnisky, a lawyer-turned-gold miner, veteran of some 16 years at Barrick Gold, wraps up an interview on a late autumn morning.
Outside, Johannesburg is thronging with activity. One of Dushnisky's predecessors, Mark Cutifani, once confided that in his early days at AngloGold he was trepidatious about the drive over Nelson Mandela bridge that leads into Ntemi Piliso Street where AngloGold's Turbine Hall office is located in downtown Johannesburg, with pedestrians giving new expression to jay-walking.
The view of Dushnisky, however, is that the chance to run AngloGold was too good an opportunity to let pass. "I don't regret a day I was at Barrick (where he was president), but I also knew that I was at a point in my career where there wouldn't be a lot of opportunities to shape the future of a company that was of Barrick scale."
One of the facts of AngloGold's corporate life is that it's the world's third largest gold producer, but ranks 14th in terms of market capitalisation. It's not a statistic about which Dushnisky wants to make a big deal, but one suspects his relatively quick decision regarding the sale of the South African assets – which he acknowledges was also partly informed by his position as an outsider – might have something to do with it.
AngloGold announced on May 9 that it intended to sell its South African operations consisting of Mponeng, the country's deepest gold mine, in Carletonville, west of Johannesburg, and Mine Waste Solutions (MWS), about an hour's drive away
in Stilfontein.
Analysts see an instant narrowing of the so-called South African discount as a consequence of the proposed transaction, but it's no slam dunk the deal will get done.
A book value of $530m has been imputed to MWS and Mponeng, while the latter requires an estimated $1bn in gold resource extension capital over a 10-year period from about 2027 or 2028, according to a report by Dominic O'Kane, an analyst for JP Morgan Cazenove.
This is not easy cash for any of the potential South African buyers.
"If we decide to continue to be owners because we don't see a bid that we think represents full value, we'll run the mine for the next eight years and then we'll also value what other options exist to extend the mine life," says Dushnisky.
"I can't tell you what the mine life extension would be. It will depend on our capital availability at various stages along the way. But I'm quite confident we can extend beyond eight years from just what we know now."
The Johannesburg office stays, however, even if the assets are sold. Firstly, its cheaper to stay compared to the cost of relocating services. Then there's the support services that come with being in a mining town, which Dushnisky recognises hailing
from Toronto.
I don't regret a day I was at Barrick, but I also knew that I was at a point in my career where there wouldn't be a lot of opportunities to shape the future of a company that was of Barrick scale
In addition to the South African assets, Dushnisky has also put the Sadiola and Cerro Vanguardia mines up for sale, in pretty short order. He only joined the company in September.
The organisation is "top heavy" with assets that don't have "a centre of gravity" or have any built-in organic growth, potential to lower costs etcetera. Dushnisky likes better Obuasi, the Ghana mine currently the subject of a $550m re-engineering effort. Then there's exploration potential in Colombia (Quebradona and Gramalote) whilst in the Democratic Republic of Congo, the company is a partner with Barrick at Kibali, a shiny, Lamborghini of a mine.
In some respects, the Barrick strategy of identifying tier one assets and only dealing in those, is also AngloGold's under Dushnisky. Or maybe it was former AngloGold CEO, Srinivasan Venkatakrishnan's too; it's just that Dushnisky has been enabled by a suddenly transformed gold market to move at a lick and snap that seems transformative.
Certainly, the Barrick/Randgold and Newmont Mining/Goldcorp mergers have introduced a new dynamism to the gold market – which Dushnisky describes as "the aircraft carriers" – but he thinks there's no space for AngloGold Ashanti.
"There are two of them and then I do believe below that there's right now open waters for a cruiser class vessel and in time there will be a handful of those, at most, and I'd like us to be one of them," he says.
These are the companies that will be indexed and trade "like ETFs" in some regards whilst below that there will be other gold mining companies that trade on production and earnings growth. It is a long-term industry view, however that depends on the sector keeping "keeping-on".
KEEPING DISCIPLINE
It's only two to three years since mining companies of all stripes were writing down assets and retrenching staff, of which AngloGold shouldered its fair share (R4bn to be exact). According to PwC, in its 2018 survey of just the South African industry, impairments totalled nearly R20bn, about half of the R40bn written down in 2014. These are not mouth-watering statistics.
"There's still some uncertainty in the investment community regarding whether the gold industry will maintain the discipline that most companies have now been able to show over the last number of years principally because balance sheets were very heavy.
Dushnisky thinks the gold price could trade between $1,300 and $1,400/oz at some future date, but in line with the industry's new-found discipline there's always the downside to consider. "We're really trying to run our business so that we set a target, for example this year, being cash flow break-even at a $1,200/oz level.
"We've actually done our own assessment and planning sessions that if the gold price were to retreat below that what will we do to make sure we maintain viable."