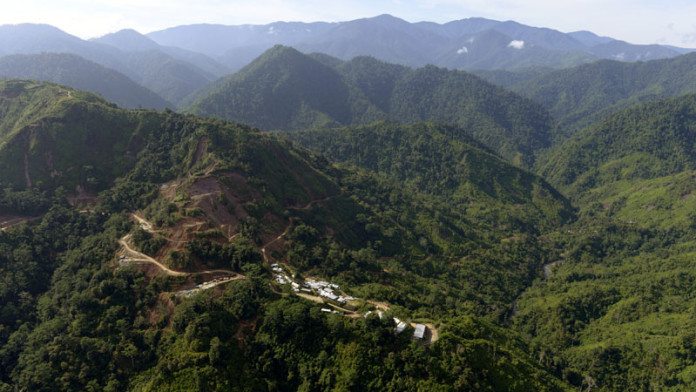 THE direction of travel of Wafi-Golpu, the Papua New Guinea (PNG) project in which Harmony Gold has a joint venture stake, is likely to be among the areas of focus when the South African miner posts its full-year results presentation on Tuesday (August 20).
The group will also face questions regarding Mponeng and Mine Waste Solutions, assets nearby existing Harmony mines that – according to analysts – the purchase of which from seller AngloGold Ashanti could generate the cash flow required to finance Wafi-Golpu.
Analysts said earlier this year that significant delays in the development of Wafi-Golpu could heighten risks about Harmony's long-term production profile notwithstanding last year's purchase of Moab Khotsong from AngloGold Ashanti.
The development timeline for Wafi-Golpu is subject to the attitude of the newly installed president, James Marape, who replaced Peter O'Neill in May. Based on initial comments, the government's policy appears to have a more nationalist flavour than under O'Neill.
Marape, a former finance minister, said he intended to "tweak and turn" laws governing how natural resources are extracted from the South Pacific island. His election was followed by incidents of discontent among communities in PNG.
Reuters reported today that the PNG planned to take a larger share of the Porgera gold mine as part of lease-renewal talks, diluting the ownership of joint venture partners Barrick Gold and Zijin Mining Group.
Citing the country's commerce minister, Reuters said the planned changes were part of a push by the PNG to transform its economy amid a perceived lack of benefits flowing from resources projects back to communities.
Harmony's partner in PNG, Newcrest Mining, said following its full-year results presentation on August 16 that it would take a 'wait and see' attitude to Wafi-Golpu.
"We will engage with leadership [of the PNG] as soon as they are ready to," said Sandeep Biswas, CEO and MD of Newcrest in an interview with Bloomberg News. "The government has not proposed anything to us. It is busy negotiating on the LNG (liquified natural gas project with the French oil major Total SA) and soon thereafter it will turn its attention to Wafi-Golpu," said Biswas.
"It is just a matter of sitting across the table and coming to an agreement. But only when they are ready," he said.
The Wafi-Golpu copper-gold mine could cost Harmony Gold $2.82bn in initial capital expenditure to build to commercial levels of production as per a 2018 feasibility study. Of this, Harmony will shoulder about 50% with Newcrest carrying the balance. Average annual gold production was put at some 266,000 ounces.
The O'Neill government signed a memorandum of understanding (MoU) regarding the development of Wafi-Golpu but it did not state the ownership that the PNG government may take in the project.
"Consequent delays in the work program will increase permitting costs," said Morgan Stanley of Wafi-Golpu in July. "We view PNG as a relatively high risk jurisdiction, and if permitting approvals are not forthcoming, development of the project could stall and exacerbate our concerns over Harmony's long-term production decline," said JP Morgan Cazenove in a note.
2019 IMPAIRMENTS
Harmony said on August 15 in a trading statement to the JSE that it would present much improved full-year results owing to a full-year of production from Moab Khotsong as well as Hidden Valley, a PNG mine that the firm's CEO, Peter Steenkamp, decided to reopen.
Headline share earnings were expected to be between 191 and 226 South African cents – a year-on-year increase of approximately 12% to 32% compared to the previous financial year of 171 cents/share. In addition to increased production, the year-on-year results performance would also be assisted by lower impairments.
An impairment of R3.9bn ($276m) will be booked over Harmony's Tshepong shafts, Kusasalethu, Target 1, Target 3, Joel and Bambanani on the basis of increased costs, including the impact of the Carbon Tax that was imposed by South Africa's National Treasury in June, and capital expenditure on exploiting the reserve base. Impairments for the 2018 financial year totalled R5.3bn ($386m).
Harmony management will also be asked regarding a possible bid for Mponeng and Mine Waste Solutions, the assets put up for sale by AngloGold Ashanti, especially as Harmony was the $306m cash buyer for AngloGold's Moab Khotsong in 2017.
According to a note by JP Morgan Cazenove's Dominic O'Kane, Harmony could, in buying AngloGold Ashanti's South African assets for a 100% debt-funded bid improve its ability to finance Wafi-Golpu.
"If Harmony were to hypothetically acquire ANG SA (AngloGold's SA operations which include underground and surface mining), ANG SA's incremental $200m EBITDA in 2020/21E could reduce financing risk for Wafi Golpu by unlocking higher leverage potential and by extending Harmony's reserve life risk," he said.
"Higher debt capacity could in turn reduce future shareholder equity dilution associated with Harmony's $1.4bn share of Wafi-Golpu's development capex," he said. O'Kane accords a book value of $530m to AngloGold's South African assets, and a value of $265m for Mponeng alone which is set to take production to 363,000 oz by 2023.