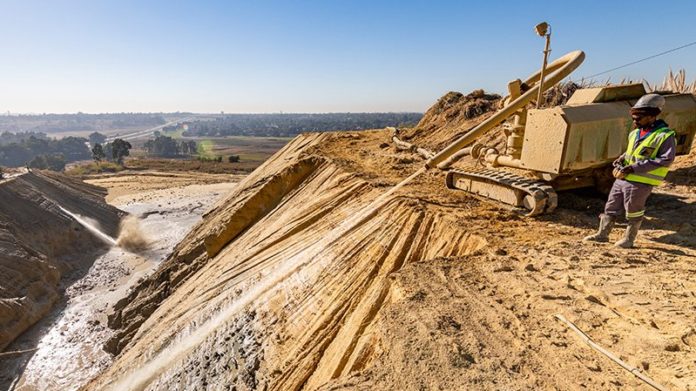 A CHANGE in an environmental charge mainly related to Ergo was behind a far improved profit forecast for DRDGold.
The gold recovery company said in a trading statement today that full-year share earnings would come in at between 11.65 and 11.95 cents. This compares to full-year share earnings of 1.5 cents booked in the 2018 financial year. Headline earnings would be 10.73 to 11.07c/share (2018: 1.78c/share).
There was a R60m credit resulting from a change in estimated environmental rehabilitation, mostly related to DRDGold's Ergo operation, east of Johannesburg. But the results also featured first meaningful production from Far West Gold Recoveries (FWGR). This is the name given to the West Rand operation bought with shares from Sibanye-Stillwater, which consequently has a 38% stake in DRDGold.
Commercial production from FWGR started three months late in April – therefore revenue and cost of sales from the assets were lower than stated in the takeover circular – nonetheless, R184.6m was booked in maiden revenue from the dumps. Ergo also benefited from an increase in the rand gold price which offset its 4% lower production.
Total production for the year came in at 4,826 kilograms (kg) or about 170,000 ounces compared to previous production of 4,679kg or 165,000 oz.
DRDGold ended the year with net cash and cash equivalents of R279.5m, some R26m lower than at the close of the previous financial year. All borrowings were removed following the repayment of R192m in a revolving credit facility.
DRDGold said at its interim results presentation in February that FWGR was off to "… a flying start". Construction began in August 2018 and early-stage commissioning in early December 2018. "FWGR is off to a flying start and we look forward to the benefit of its contribution in the second half of the 2019 financial year," it added.
In the first phase of development, for which DRDGold raised R300m in loans despite a static gold price, it is targeting a processing rate of 500,000 tonnes/month.
In phase two, scheduled to come on stream 24 months after Phase 1, a central high-volume processing facility and new deposition site will be developed to handle about 1.2 million tonnes of material a month from different sources.
In order to buy FWGR – a transaction that lifted DRDGold's reserves and resources by more than 80% – it brought in Sibanye-Stillwater as a 38% shareholder. Sibanye-Stillwater also has the option of increasing its shares in DRDGold to just over 50% – a deal that has seen Niel Pretorius, DRDGold CEO, cop some criticism for selling control cheaply.