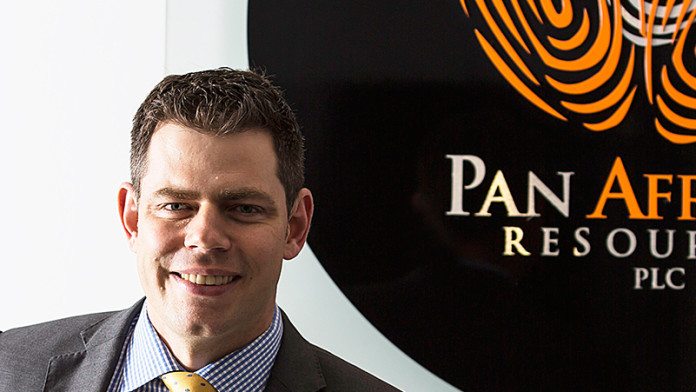 PAN African Resources beat production guidance, returned to positive earnings, and resumed the dividend, prompting CEO, Cobus Loots, to declare the 2019 financial year a transformative period for the gold producer.
"We enter the new financial year with confidence, a firm grasp on our cost base, and in a good position to benefit from the current gold price environment," said Loots referencing the improvement in the rand gold price.
On a year-on-year basis, gold producers with an exclusive South African focus, such as Pan African Resources, would receive roughly R180,000 more per kilogram of gold produced. It has led to a re-rating in gold shares owing to so-called gold price leverage: shares in Pan African are some 58% higher on a 12-month basis.
Loots said the goal for the current financial year was to reduce debt whilst continuing to "invest in our business". He added in comments to the year-end results that the group will continue to "… assess other value accretive opportunities" in addition to organic growth. Net debt increased to $129.9m in the year from $118m previously.
For the period under review, Pan African reported share earnings of $1.97 which compares to a $6.79 loss per share in the comparative period.
On a headline share earnings basis, the company posted a one fifth year-on-year improvement of some 1.19 cents per share notwithstanding a 6.6% increase in shares issued.
The company announced a $3.4m (R50m) dividend which it said "… demonstrates the progress our group has made in the last year".
The key elements of the 2019 financial year was commissioning of R1.7bn Elikhulu, a gold retreatment facility, and the optimisation of its Barberton Gold Mines in Mpumalanga province. The previous financial year also bore the marks of restructuring: principally the closure of Evander Gold Mines with the loss of 1,635 jobs.
Despite closing Evander, mining of the remnant shaft pillar at Evander 8 is continuing. The project is expected to yield 30,000 oz. The company is also considering underground mining elsewhere on the Evander property at the Egoli project. Loots has said in the past it would be foolish to ignore the 30 million oz in resource potential at Evander.
As a result of commissioning Elikhulu and improving performance at Barberton Gold Mines, the company had established a better grasp of its cost base: all-in sustaining costs (AISC) per ounce were hauled in 27.2% to $988/oz. Helpfully, the gold production came in at 172,442 oz, slightly ahead of 170,000 oz guidance but more than 50% higher year-on-year. Guidance for the current financial year, as previously stated, was 185,000 oz.
"The Egoli Project and our new optimisation projects at Evander and Barberton present compelling near and mid-term growth opportunities within our portfolio that will also support an increase in our production profile," said Loots.