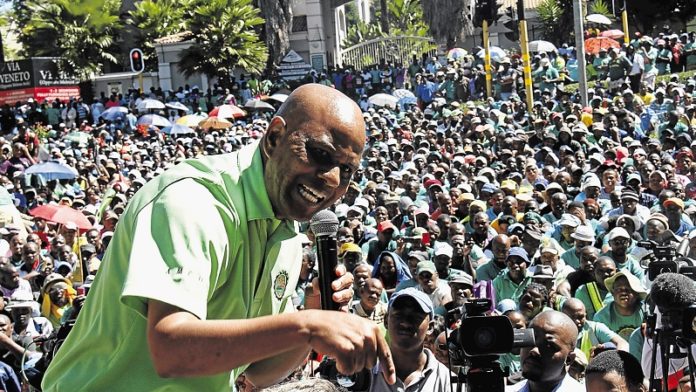 JOSEPH Mathunjwa was re-elected president of the Association of Mineworkers & Construction Union (AMCU) at the weekend following the union's first elective conference, which went uncontested, said Reuters.
"I'm not a great leader but I'm good," Mathunjwa said in an acceptance speech which Reuters said was peppered with Biblical references.
The elective conference came after South Africa's labour registrar earlier this year said he intended to de-register militant AMCU for breaking rules on how unions operate.
The de-registration of the union could reshape the balance of power on the country's platinum belt, handing more influence to AMCU rival the National Union of Mineworkers, which is more closely-aligned with the governing ANC party, said Reuters.
The re-election of Mathunjwa will be a shot in the arm for the union leader as he leads negotiations on new wage agreements with South Africa's largest platinum group metal producers including Impala Platinum (Implats) and Anglo American Platinum (Amplats).
Earlier this month, AMCU declared a dispute in the talks, although Implats and Amplats, as well as Sibanye-Stillwater, said discussions with the union were stable.
Amplats and Sibanye-Stillwater rebuffed AMCU's initial demands for a 48% wage increase. In return, the union has also rejected counter-offers.
Workers want more money as higher palladium and rhodium prices and a weaker rand bolster the industry's profit margins.
AMCU rose to prominence in 2012, when it was at the centre of a strike at Lonmin's Marikana mine that saw 34 miners shot dead by the police