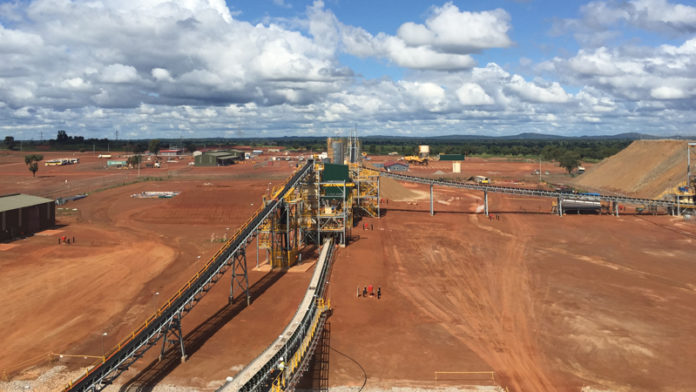 ENDEAVOUR Mining said the Burkina Faso government had granted it a mining permit for the Kari area of its Houndé mine.
The Toronto-listed firm said in November that maiden indicated resources at its Kari West and Kari Centre exploration sites totalled one million ounces taking the total measured and indicated resources at the Houndé mine in Burkina Faso a quarter higher.
Including a previous discovery, the mine has found enough new resources in order to sustain production at some 250,000 ounces a year for the next 10 years.
Endeavour also announced today it had started mining activities at the Kari Pump deposit with more than 60,000 metres of grade control drilling in the second quarter. This is expected to result in Houndé reaching the upper end of production guidance which had been put at between 230,000 and 250,000 oz for the year.
Sébastien de Montessus, CEO of Endeavour, said the granting of the mining permit for Kari was part of its strategy to build organically. "Endeavour has been keenly focused on creating value through the drill bit," he said.
Shares in Endeavour Mining last closed at C$32.86/share, just off its 12 month high of C$33.18/s in May. The period has been volatile: the share was at $20 a piece at the end of March just as the global reality of COVID-19 was making itself known. Endeavour is currently capitalised at C$3.6bn.
The permit comes at a busy time for Endeavour notwithstanding the COVID-19 pandemic. On July 3, the company said it had issued about 4.51 million shares to La Mancha for $100m. This was in terms of La Mancha's right to preserve its stake in Endeavour following the issue of shares to shareholders in SEMAFO with which Endeavour merged.
La Mancha is the investment vehicle owned by Naguib Sawiris, the Egyptian telecoms mogul whose activity in the West African gold mining sector has been significant since he bought an initial $500m foothold in Endeavour in 2012.
La Mancha now has a 24.1% stake in Endeavour, down from its position 31% position. The offer price has made at a price of C$30.27/share – a 44% premium to the share price prior to the announcement of the SEMAFO merger on March 20.
The combination with SEMAFO will create a company with one million ounces a year in gold production, although current pro forma output is closer to 800,000 oz. At one million oz/year, the combined company will become one of the 15 largest gold producers globally.