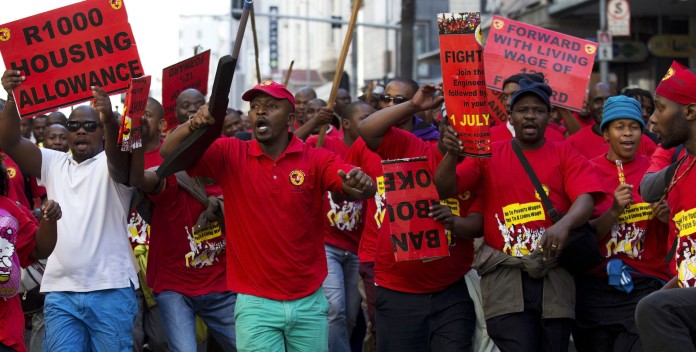 THE Commission for Conciliation, Mediation and Arbitration has issued a strike certificate to unions in dispute with Sibanye-Stillwater's gold division over wages.
According to the Daily Maverick "… the date of the strike is not clear as the four unions involved must meet and agree among themselves". Unions supporting the strike are the Association of Mineworkers and Construction Union (AMCU), the National Union of Mineworkers (NUM), Solidarity and UASA.
Unions had no choice but to strike, said Gideon du Plessis, General Secretary of the Solidarity on January 4. "Sibanye is leaving us with no alternative than to commence with a strike balloting process, if they are going to remain on the current exceptionally low offer and their failure to have constructive engagements," he said.
Sibanye-Stillwater's offer for Category 4 – 8 employees, the lowest paid, is a monthly increase of R520 in year one; R610 in year two; and R640 in year three.
Miners, artisans and officials would receive an increase of 4.1% in year one; 4.7% in year two; and 4.7% in year three. For the lowest-paid categories that will be in line with the current inflation rate of 5.5%.
Sibanye-Stillwater has made it clear that its latest offer was final on the grounds it cannot afford more even at current gold prices which are relatively robust at over $1,800 an ounce.
Sibanye-Stillwater COO Richard Stewart said last year that Sibanye-Stillwater was planning for a strike. "That's not because it is something that we want or something that we intend  or something that we expect.
"It is just responsible of us to recognise the position we are in and be able to make sure we can protect and sustain our operations for the benefit of all stakeholders in the event that it does occur."
Stewart said Sibanye-Stillwater thought it was paying a fair wage, but had reached a point where "sustained and continued above inflation wage increases are simply not sustainable and will start to have severe negative consequences for our operations".
He pointed out the unions' demand for a R1,000 per month increase would add an additional R90,000/kg of gold produced to Sibanye-Stillwater's ASIC (all-in-sustaining cost) over the next three years.
Stewart said at that time Sibanye-Stillwater's ASIC for the year to date was R820,000/kg while the average gold price received was R838,000/kg which meant the wage demand was "clearly not sustainable in terms of maintaining our operations."