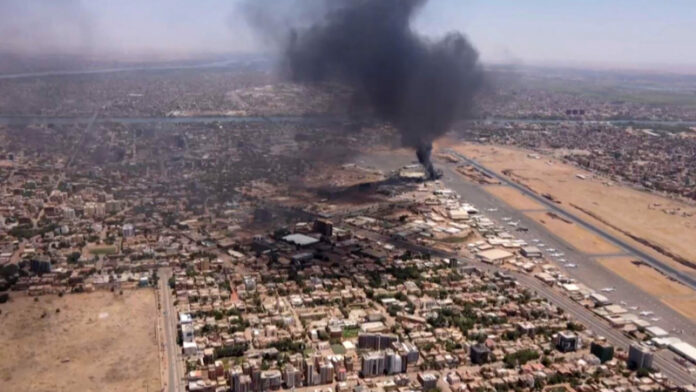 PAN African Resources is hopeful of resuming exploration for gold in Sudan after withdrawing from the north African country over the weekend.
"It is a trajedy what is happening," said Pan African CEO Cobus Loots. "But our approach is to take long-term perspective, assess and understand it."
Fighting continued in Khartoum today despite a seven-day ceasefire having been agreed, according to a report by Aljazeera. It said the Sudanese army was attempting to push back the paramilitary Rapid Support Forces from around the presidential palace. Fighting between the army and RSF first broke out on April 15.
The conflict caught mining firms cold, including Perseus Mining which is developing the Meyas Sand Gold Project in the north of the country near the border with Egypt. Perseus bought Meyas in February last year through the A$230m acquisition of Orca Mining. Perseus has spent about $25m to date on the project.
Similarly, Pan African forged ahead on its Sudan investment. Loots said $5m in expenditure had been spent to date of a proposed $7m over three years. This was on a 1,100 square kilometre property situated about 70km northwest of Port Sudan in the north.
"There's no need to write-down this investment," said Loots. "There's a lot of international pressure to have this conflict resolved. The exploration we were doing is very promising." The government of Sudan granted Pan African licences for a period of three years, with the option to renew for a further two years.
Five expatriat Pan African employees were evacuated on Saturday from Port Sudan to Saudi Arabia via ship, said Loots. They were then flown from Saudi Arabia to South Africa. "In mining terms, we're close to Port Sudan so it was prudent to do this," he said.
Sudan produced about 90 tons of gold last year, making it the third largest gold producer in Africa after Ghana and South Africa, and the tenth largest producer in the world with production in 2021 – equivalent to Peru's gold production.
Events in Sudan are a blow to Pan African which has otherwise restricted its gold replacement and growth projects to some of South Africa's most mature assets, including the R2.5bn Mintails project.
Mintails, which will see the processing of gold dumps from nearby mines, is scoped to produce 50,000 to 60,000 ounces a year in gold at an all-in sustaining cost of $1,000/oz.