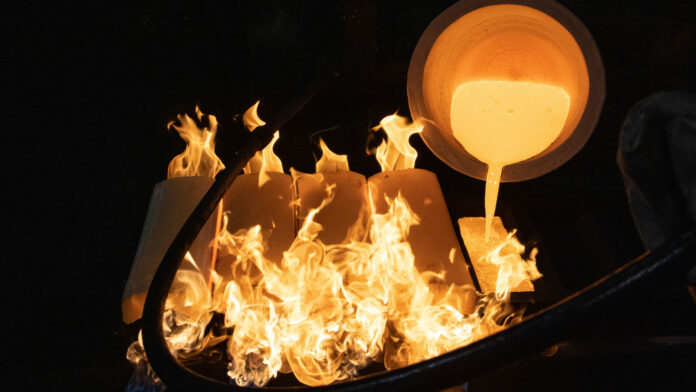 DRDGOLD is riding the crest of a wave with the gold reclamation company registering a 12 month high in early Johannesburg trade.
It was last trading at R24.22 per share valuing the company at R20.9bn. DRDGold shares are also at their highest level since August 2020 and comes on a day when the gold price surged back through $2,000 per ounce – elevating other local gold shares.
Harmony Gold was at a 12 month high, a gain over 12 months of just over 70% while AngloGold Ashanti and Gold Fields have gained 84% and 60% respectively this year. Gold Fields has been notching up all time highs since mid-April.
Gold was last trading at $2,021,50/oz.
DRDGold said in an update today it had generated strong third quarter cash owing to an increase in the gold price. A higher yield per ton of gold reclaimed from its Ergo plant on the East Rand and its Far West Gold Recoveries lifted production and helped offset an increase in costs per ton treated.
A result cash and equivalents increased R160.2m taking cash on hand as of March 31 to R2.55bn.
A portion of the cash would be put towards capital projects but DRDGold said that it "remains in a favourable position to … consider declaring a final cash dividend". The firm's year end is June 30 with the dividend to be paid in August.
DRDGold announced an interim dividend of R172.1m in February in a presentation that also outlined the difficulties of operating in South Africa. Niël Pretorius, DRDGold's CEO, said that "certain elements within the ruling (ANC) party" were trying to derail efforts by President Cyril Ramaphosa to have the private sector invest in the country's power sector which could decentralise it.
A positive swing in the gold price often cut through these domestic worries, however. The rand gold price averaged R1.08m per kilogram in the three months end-March – a quarter-on-quarter increase of 11%. Most of the gain was from the dollar improvement of the metal – up 10% – rather than rand depreciation against the dollar.
An increase in yield helped marginally lower cash operating costs per kilogram sold to R689,426/kg for the quarter. Cash operating costs per ton of material increased from the previous quarter to R170.3/t due to a decrease in the ore treated. This was the result of the reclamation of final remnant and clean up material at sites as they neared depletion.
All-in sustaining costs per kilogram were R790,471/kg, decreasing quarter-on-quarter mainly due to a decrease in sustaining capital expenditure.
All-in costs per kilogram were R920,965/kg, increasing quarter on quarter mainly due to an increase in non-sustaining capital expenditure, relating primarily to the development of the 20MW solar power plant.
In his report on DRDGold's interim results for the six months to end-December, Pretorius said "the State is no longer just a source of drag on the economy – it is in consistent default of its constitutional mandate and has now become a threat to the economy and the quality of life of ordinary South Africans".