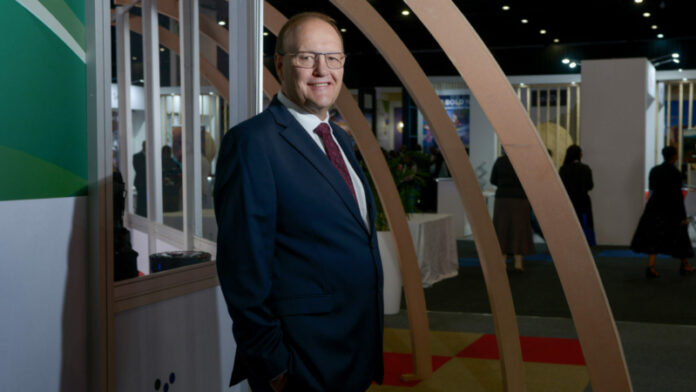 IN the words of singer Taylor Swift, Gold Fields shook it off. Five months after the resignation of CEO Chris Griffith, the gold miner's share price is at a record high.
Stand-in CEO Martin Preece said in a May 5 interview that while the dollar gold price was driving the stock, "we hope the market is giving us a bit of credit as well" — a reference to two deals the company announced this year.
Last year was a nightmare for Gold Fields. On May 31, it bid $6.7bn in shares for Yamana Gold, a Canadian gold producer, only to be outbid by a joint offer from rival gold producers. Since then, it is joint ventures of its own — in Ghana and Canada — that have propelled the firm to a comeback and could boost Preece's chances of permanent tenure.
"The board has indicated to us it has narrowed the field," Preece says of the search for a new leader. "It wouldn't be right to speak too much about the process, but I think interviews start next week," he said.
The first of the deals that have revived Gold Fields was a joint venture with AngloGold Ashanti involving neighbouring mines in Ghana. The second, a C$600m purchase of a 50% stake in the Windfall project in Quebec, includes exploration potential on Windfall's 2,400km² property.
John Burzynski, CEO of Osisko Mining, the Toronto-listed miner that sold the Windfall stake, says the project's 7.4-million ounces in resources will definitely be increased, possibly to 10-million ounces. "We'll knock over tables and chairs to find more," he burred in that hyperbolic way that is entirely typical of North America's mineral developers. Unlike South Africans, Canadian institutional investors are comfortable with mineral speculation.
Local analysts are positive about Gold Fields's Windfall investment because, combined with the Ghana joint venture, it helps soften an otherwise hefty decline in production due to gather pace in 2025. "On balance we see this deal as positive as it addresses the company's longer-term production profile issues while adding further growth optionality," says Arnold van Graan, an analyst for Nedbank Securities.
The deal is also less risky than the tilt for Yamana, which exposed Gold Fields to geopolitical and operational risk in Argentina.
Raj Ray, an analyst for BMO Capital Markets, describes Gold Fields's recent dealmaking as "less transformational but more value accretive". That's not to say Gold Fields isn't paying up for this real estate. Canada is as costly a mining address as any in the world. Taking Gold Fields's share of an estimated C$1.1bn in project costs at Windfall into account, a gold price of $1,650 an ounce would be required for net present value neutrality, say analysts at RMB Morgan Stanley.
There's also construction risk, says Van Graan — when all's said and done, a mine still has to be built at Windfall. (Somewhat ironically, Burzynski's CV at Osisko includes developing the Canadian Malartic mine, now the crown jewel in Yamana Gold.)
Gold Fields hasn't entirely remedied its production decline, which is projected to fall by 500,000oz between 2025 and 2030. Attributable output from Windfall will be about 150,000oz per year while the Ghana joint venture with AngloGold adds roughly 125,000oz. So the question is, will Gold Fields hazard more mergers & acquisitions?
There's no straightforward answer.
Preece says he will take a breather from deals given that, in addition to Windfall and the Ghana deal with AngloGold, Gold Fields this year has to commission its 500,000oz per year Salares Norte project in Chile. Yet in comments with its first-quarter numbers, Gold Fields said it remained on the lookout for more M&A. Ultimately, this ambivalence speaks to the uncertainty of who'll be running the company in the long term.
"We're comfortable with 2.4-million ounces in production by 2030," Preece says. But this wasn't the approach taken by Griffith, who said on taking the Gold Fields job in 2021 that more production meant more attention for a company. Yet the drawback of outsize output is the pressure of having to maintain it.
BHP, the world's largest diversified miner, bought Oz Minerals for $6.4bn last month, while Newmont recently increased its offer for Newcrest Mining to $19.5bn. "Companies that do deals have no runway on resources," says Barrick Gold CEO Mark Bristow. "Deals often don't create value."
No denying then that Preece has done well.
This article first appeared in the Financial Mail.