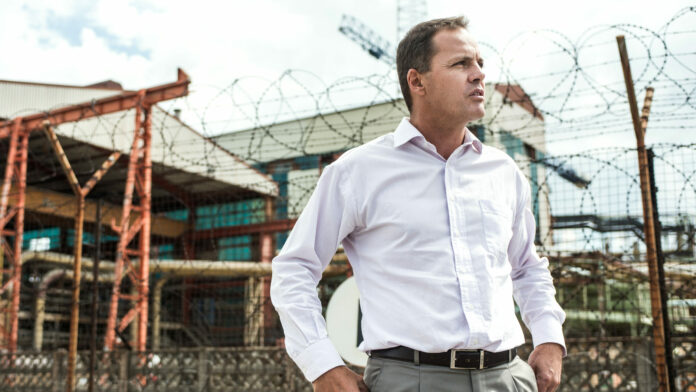 DRDGOLD has been kicking around for nearly as long as Joburg has had a mining sector. Only De Beers ranks older, according to CEO Niël Pretorius. The good news for shareholders is that plans are afoot to extend its run for many more years.
Pretorius told the Financial Mail that no formal discussions have taken place, but there is "money to be made" in re-mining the 82 million tons of platinum group metal (PGM) dumps owned by Sibanye-Stillwater, its 50.1% shareholder.
"At this stage it's a strategy that just hasn't been brought together," he says. There are two options: for DRDGold to process PGM dumps in an arm's-length agreement with Sibanye-Stillwater, or for Sibanye-Stillwater's PGM and uranium tailings assets to be moved into DRDGold.
For Sibanye-Stillwater the latter course has obvious benefits because it would effectively shift the environmental liability and capital costs of PGM waste exploitation to DRDGold's balance sheet.
But it's a sensitive matter. There are DRDGold minority shareholders to consider as well as employees. "There's enormous belief in the DRDGold emblem," says Pretorius, who is keen to avoid disgruntlement in the ranks. "They are deeply proud of the company."
For that reason he stops short of commenting on Neal Froneman's remarks in an interview with the FM in February that DRDGold was "due a rebrand". Sibanye-Stillwater spokesperson James Wellsted also declined to detail how the two companies could transact in the coming months.
There's enormous belief in the DRDGold emblem
What's clear so far, however, is that their tie-up has worked a treat. Since taking on Sibanye-Stillwater as a shareholder in 2018, DRDGold has been the JSE's top-performing gold producer, gaining more than 600%.
Once the "go-to" share of gold bugs who'd climb into DRDGold at the merest flicker of a gold price run — a dynamic described by its former CEO, the late Mark Wellesley-Wood, as "the Roodepoort Rocket" — the company is now a central leg in Sibanye-Stillwater's circular economy strategy.
Circular logic
Mining companies are turning to the business of circular economics — recycling in plainspeak — as a way of competing in the supply of electric vehicle (EV) battery minerals such as lithium. Glencore unveiled an agreement with the New York-listed metals recycling company Li-Cycle Holdings this month in which the two will study converting Glencore's 94-year-old Portovesme lead/zinc facility in Sardinia into a new business processing up to 70,000t of "black mass" — junked batteries — a year. In goes trash, out come valuable minerals such as cobalt, nickel and lithium.
Being able to process spent EV batteries in this way ticks an ESG box and can also provide customers, such as automakers, with supply security. "We view the optionality and prospects of an expanded recycling footprint favourably." say analysts at Morgan Stanley. Glencore had written down Portovesme for $75m at the end of financial 2022.
A similar strategy is behind two feasibility studies under way at Sibanye-Stillwater. One is for a PGM recycling facility, the other is for battery metals recycling. Both would be on property adjacent to its currently loss-making Sandouville nickel processing unit, described by Sibanye-Stillwater in a first-quarter announcement as a "green" metals node, in France's Le Havre industrial centre. Locating the facilities there would help to establish Sibanye-Stillwater — which is also developing the Keliber lithium mine in Finland — as a player in Europe's battery metals industry.
Matter of new reach for Sibanye
Sibanye-Stillwater needs to diversify its business. Nothing said this more than its Q1 numbers where, amid underperformance of gold and its US PGM mine, the reliance on South African PGM output was stark with R7bn of R7.8bn derived from those assets. "The South African PGMs remain the profit driver," says Raj Ray, an analyst at BMO Capital Markets.
Securing a battery metals foothold could have a similar impact on Sibanye-Stillwater's business as buying into PGMs, given the enormous upside of EVs. According to the International Energy Agency, EVs will comprise 18% of all vehicle purchases this year — 14-million units, against 10-million last year.
We view the optionality and prospects of an expanded recycling footprint favourably
Meanwhile, in Australia, Sibanye-Stillwater has bought control of New Century, a business that processes base metal dumps in much the same way as DRDGold chews through South Africa's gold dumps. Unfortunately, New Century ran into dire straits after Sibanye-Stillwater announced an initial beachhead stake last year.
The South Africans recapitalised New Century and intend to delist it. Starting the Australian assets on a clean sheet could dovetail neatly with the internationalisation of DRDGold. Were such a transaction to be completed, the Roodepoort Rocket would certainly enter a new orbit.