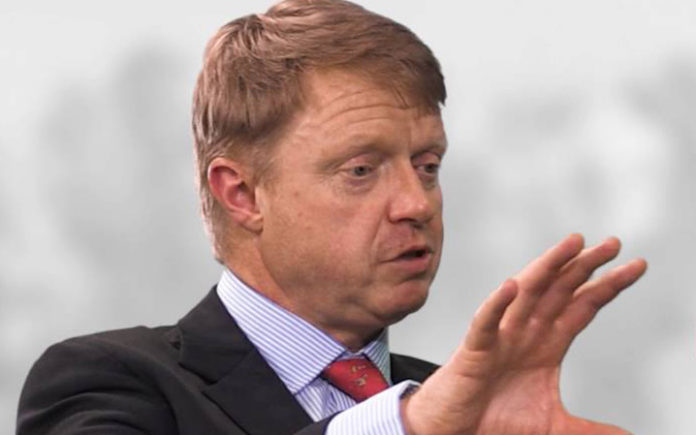 HAVING operated relatively comfortably for years, Zimbabwean gold miner Caledonia Mining Corporation is facing a potentially company-defining decision about how to finance its second gold mine. The first, Blanket, was a brownfields shaft extension. It cost $150m and was financed with cash flow over seven years. The Bilboes project, acquired for $53m in shares in July last year, will cost double that amount but lift production to 250,000 ounces a year from 90,000 oz/year currently. That would give Caledonia an entirely new blush; more so if it can be developed quickly.
Mark Learmonth, who was appointed Caledonia's CEO as the Bilboes transaction was being inked, says the board is not yet decided on the development time frame for the project, but he acknowledges the benefits of rapid development; in fact, during an interview with Miningmx, he sounded partial to it. The all-important question though is whether a company like Caledonia can pull off a transaction quite like this.
During Blanket's development, Caledonia was able to increase the dividend multiple times, which gave it a reputation for good yields and conservatism. The opportunity in the market now, however, is to convert Caledonia to a growth stock at a time when global inflation is giving support to the gold price. Gold companies everywhere are seeking to lock in growth either through expansion or mergers and acquisitions.
"Why waste your time talking to me. Why don't you pick up the phone to our bloody brokers and ask them how they're going to transition from one to the other?" says Learmonth when asked if Caledonia can adopt this new approach. The key, he says, is funding the preproduction capital of at least $250m, bearing in mind the debt component might be only half that number. "The market may not be there for us, in which case there's no point in trying to pursue a dream that's not available," he adds.
Caledonia's New York listing has served it well. Previously the company had success raising finance by making shares available on demand for the development of a solar plant at Blanket. In Europe, the company recently attracted new Swiss investment and closer to home it raised $8m by listing shares on Zimbabwe's Victoria Falls exchange. Allan Gray, the South African asset management firm, is also supportive of the firm's growth strategy, which could see growth eventually top 500,000 oz/year if the rest of the firm's project pipeline is developed.
An alternative approach is to slowly develop Bilboes as it did with Blanket. "We could replicate that but then it means we're not going to be an explosive growth company; at least we won't be asking anyone for money," he says. Learmonth, who appears expansive by nature, says the board veers towards conservatism, if only because that has served it well in the past.
Part of the reason for that is Zimbabwean political risk, which runs deep with investors. Certainly there isn't a queue of Western commercial banks wanting to provide Caledonia with debt, although one development finance institution has $1bn for investment in Zimbabwe, far more than Caledonia needs. Discussions with the DFI (development finance institution) are underway, says Learmonth.
One of Caledonia's main advantages is the deftness with which it's managed Zimbabwe's challenges. On the ground Zimbabwe is, in fact, relatively easy to operate in, says Learmonth. Unlike South Africa, which he regards as openly hostile to investors, the Zimbabwean government is accommodating. In addition, Caledonia has minimised power shortages at Blanket by building renewable power and installing back-up diesel-run generators. Zimbabwe's labour is also productive.
Meanwhile, Caledonia is keeping its options open with Blanket. Learmonth says the company restarted deep-level exploration of the Blanket deposit in January. It couldn't be done before given the commitment towards extending Blanket's main shaft but the pressure is off the balance sheet, at least for now. "The results are very positive; better than I expected."
"The mine will go deeper," he says. Whether Caledonia will go faster is less certain, however.
This article first appeared in the The Mining Yearbook 2023 available here.