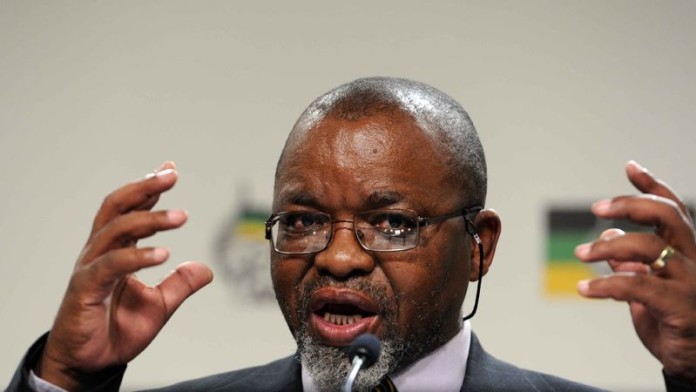 WHEN Gwede Mantashe was appointed minister of Mineral Resources in 2018, the mining sector rejoiced. Here was a mining trade unionist and seasoned politician with industry knowledge and negotiation skills.
To his credit, Mantashe did abandon an appeal against a High Court judgement which had set aside onerous empowerment requirements and procurement targets in the Mining Charter in 2021. This calmed investors and brought a degree of investor certainty regarding black economic empowerment targets.
Mantashe was also lauded for sitting around the negotiation table with the Minerals Council once again after a brutal breakdown in relations with his predecessor, Mosebenzi Zwane.
But unfortunately, talking hasn't resulted in doing, and the department has not delivered on its most crucial functions.
"The promises that have been realised are not of much value," says Jonathan Veeran, partner and head of mining at the law firm Webber Wentzel. "What the department fails to realise is that they need to attract investment, not regulate the industry to death."
The most poignant areas of over-promising and under-delivering pertain to the granting of licences, a working and transparent mining cadastral system, and a sound and realistic exploration plan that will lure prospective exploration companies and investors to South Africa.
In its 2019 annual performance plan, the Department of Mineral Resources and Energy (DMRE) promised to strengthen internal capabilities and address weaknesses to better serve the mining sector and improve its response time. Four years down the line, and the backlog for granting mineral rights is again topping 5,000. The reasons for the outstanding decisions on new and existing mineral rights, exploration and prospecting licences are partly because of the dysfunctional South African Mineral Resources Administration (Samrad) cadastral system, but even more so due to incompetence and corruption, especially at regional offices, where dysfunction is at its worst.
Veeran says that the DMRE's poor administration issues haven't been solved under a Mantashe ministry. "They need to weed out the corrupt elements. And sometimes it's not even that nefarious things happen at regional level. It's also that people are slow or there's a lack of skills. This hasn't been solved."
Back in 2019, the DMRE was hell-bent on "enhancing" Samrad despite warnings from the mining industry and geologists that it was hopelessly ineffective. By 2021 it became apparent that the current system was beyond fixing. The DMRE was insistent that it would not settle for an "off-the-shelf" cadastre, despite the fact that its neighbouring mining jurisdictions had implemented this with great success.
Rather, the DMRE was committed to building its own custom-made one. But this was never realised. The DMRE "outsourced" this task to the State IT Agency, which for reasons unknown could not issue a successful tender.
The DMRE eventually relented and announced late last year it would settle for an online cadastral system similar to those used by countries such as Namibia. The implementation date was set for end-February this year, but the goal posts have been moved yet again – this time to July, when a service provider for the new cadastral system is to be announced.
What the department fails to realise is that they need to attract investment, not regulate the industry to death – Jonathan Veeran
Some four years ago, the DMRE also undertook to develop a so-called Mineral Investment Promotion Framework – a diplomacy programme to attract investment. This would entail an exploration strategy to realise Mantashe's ambitious target of attracting 5% of world exploration. By 2021, an exploration strategy was still wanting, despite promises that a document would be forthcoming. When the department did eventually gazette such a plan, it was vastly different from the one that was supposed to reflect the points on which the DMRE and the Minerals Council agreed.
Roger Baxter, the Minerals Council's outgoing CEO, said at a conference in June this year that the 2021 document was "an acceptable draft document", but the one in 2022 did not fully reflect the draft. "We do not support the Exploration Strategy for the Mining Industry of South Africa, which was compiled without any engagement with the Minerals Council, nor does it reflect the constructive engagement on an Exploration Implementation Plan."
Veeran says if South Africa had a good exploration plan years ago, as was promised, the country would have known by now where all the critical mineral reserves were. "But we're always playing catchup in South Africa. We can't continue like this. The DMRE's perpetual delays in delivery on what they've promised deter would-be investors and amounts to an inability to capitalise on returns."
Among the most critical of Mantashe's promises was to introduce a special police unit similar to the crack diamonds and precious metals division of years past. That was in August last year. Speaking as part of the business-government initiative against crime and corruption in June, Sibanye-Stillwater CEO Neal Froneman said the private sector isn't waiting on government to deliver solutions for crime prevention, especially a strategy to stymie syndicates.
"We know who they are and we will disrupt them, we will chop them off at their knees," said Froneman of organised crime. Business would achieve 80% of its goals even without Mantashe's specialised police unit proving that when it comes to promises, the well of belief eventually runs dry.
This article first appeared in the The Mining Yearbook 2023 available here.