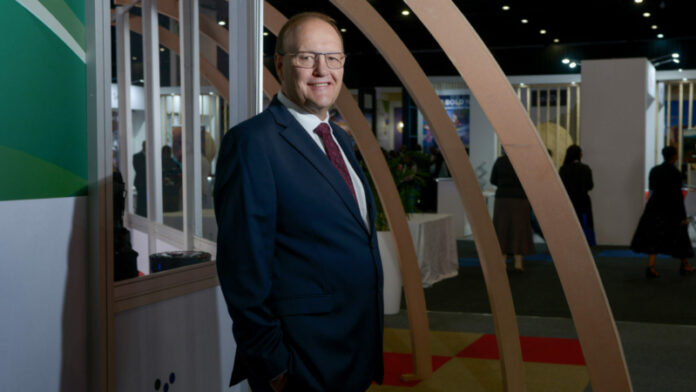 Yet another top Gold Fields executive has jumped ship bringing the total to five since October – including former CEO Chris Griffith – with the announcement in today's interim results that CFO Paul Schmidt is taking early retirement.
Schmidt is a Gold Fields "lifer" having joined the group in 1996. He was appointed CFO in 2008 and was became an executive director in 2009. He has agreed to remain as CFO until the Board appoints a suitable replacement for him.
Asked on a media conference call today why he was going at the age of just 56 Schmidt indicated he had decided to opt out of corporate life for a more relaxed and enjoyable lifestyle.
He commented, "my role model here is (former Gold Fields CEO) Nick Holland. Since Nick retired, he has become a totally different person."
Holland stepped down in 2021 after 13 years as CEO when he reached the mandatory retirement age of 63 and moved to Cape Town.
He was replaced by former Anglo American Platinum CEO Chris Griffith who lasted less than two years on the job before quitting unexpectedly in December 2022 just weeks after Gold Fields had failed in its bid to acquire North American gold producer Yamana.
His resignation shocked the market as there was no fundamental reason for him to quit because of the failure with Yamana where Gold Fields was outbid for the company by Agnico-Eagle.
Gold Fields chairman Yunus Suleman said at the time there had been no bust-up between Griffith and the Gold Fields board and he denied speculation of a major rift. The market was already uneasy with the management situation where three senior Gold Fields executives had quit ahead of the Yamana takeover.
Those were Brett Mattison – executive vice-president of strategy, planning and corporate development, Taryn Leishman – executive vice present and group head of legal and compliance and Avishkar Nagaser – executive vice-president for investor relations and corporate developments.
Gold Fields spokesman Sven Lunsche said at the time "the optics obviously don't look great ahead of the merger, but there are separate and personal reasons for each resignation."
Interim CEO Martin Preece today also denied that there was anything going on in the background not known to the market which had triggered all these resignations.
"There's nothing sinister going on," he commented.
Preece was appointed interim CEO after Griffith's departure and is one of the candidates for selection as Gold Fields's new CEO where an announcement now seems be getting close.
According to the interim results statement "the Board has held a first round of interviews with the short-listed candidates with final interviews planned for September."
The interim results to end-June are good and show that Preece has kept a tight rein on the operations in addition to closing two important corporate deals – the proposed JV between the group's Tarkwa mine and AngloGold Ashanti's Iduapriem mine in Ghana as well as the partnership with Osisko Mining to develop the Windfall project in Canada.
Gold Fields shares initially plunged 10% in trading on the JSE after the release of these results but then turned around sharply rising 16%.