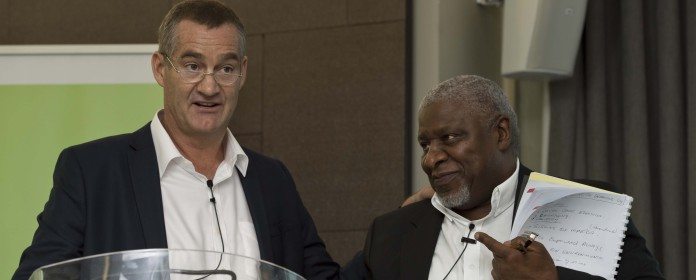 WIM de Klerk, described last week by former Exxaro CEO, Sipho Nkosi, as one of South Africa's best financial directors, has been appointed CEO of steelmaker ArcelorMittal South Africa (AMSA), effective from September.
Exxaro announced on March 4 that De Klerk was to leave the company for "a lifestyle change" after serving in the organisation since it listed in 2006.
De Klerk was also an employee at Exxaro Resources' forerunner, Kumba Resources, and before that Iscor, the predecessor of AMSA. As such De Klerk is returning to roots he established 30 years ago.
"Wim is well qualified and has the necessary experience and understanding of the steel industry to fulfill the role of chief executive officer at ArcelorMittal South Africa Limited effectively," said AMSA in a statement.
From now until September, he will continue to work at Exxaro bedding down a number of strategic goals including whether the group remains invested in Kumba Iron Ore and Tronox, restructuring R8bn in long-term loans, and concluding a new empowerment scheme that will keep Exxaro 50% plus black-owned.
De Klerk's resignation would appear to have been a long-time in the making as Exxaro said it had "… over a period of time, been considering his application to step down".
Whether by 'lifestyle change' De Klerk will lead a quieter life is up for debate as AMSA is in a world of pain currently, notwithstanding the efforts of outgoing CEO, Paul O'Flaherty, to stem the tide.
Low steel prices, high freight and electricity tariffs, and cheap Chinese imports combined to serve AMSA shareholders with an R8.5bn loss in the year to December from a R158m loss in 2014. It posted R4.25bn in impairments for the year after a year of heavy restructuring.
The company completed a R4.5bn rights offer to get back on its feet, largely under-written by Luxembourg-based parent company, ArcelorMittal, which raises the question about how much management autonomy De Klerk will have at the company.
AMSA said in August that the long-steel business at Vereeniging, founded in 1911, would be merged with the Newcastle business in an effort to stave off the effects of low steel prices and the impact of cheap imports on the company's domestic business. It added that it had extended its business review to its Vanderbijlpark Works.
O'Flaherty successfully won import protection from Chinese product, but he said earlier this year that tariffs were not enough to save the industry.
He managed to get Kumba Iron Ore to lower the cost of iron ore to the company and is hoping to extract lower freight rates from Transnet, despite being the utility's largest customer.