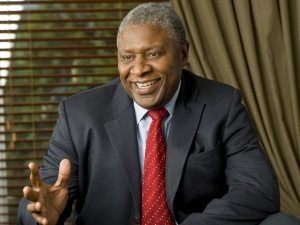 [miningmx.com] – A MINING permit is the only obstacle standing in the way of Exxaro Resources spending R2.9bn ($320m) on the Republic of Congo's (RoC's) Mayoko iron ore project, an asset it bought for the same amount last year following the takeover of Australian-listed African Iron.
It's a crucial project for Exxaro as it seeks to diversify its risk from coal mining – an area of its commodity mix the prospects of which are increasingly occluded by the activities of another African republic, South Africa.
The mining industry is yet to respond to proposals by Transnet, the transport and logistics utility, that it hike rail and port tariffs 68%, while exporters of manufactured goods receive a discount.
In an environment of possible coal export fees, the economics of participating in the seaborne steam coal market is becoming less and less attractive to South African companies. One wonders why Transnet also deems a R15bn coal-dedicated terminal when exporting the stuff is burdened so.
Bear in mind, also, that Transnet's proposed terminal is only kilometres from the established one at Richards Bay Coal Terminal which has already signalled its intention to expand to 110 million tonnes/year (Mtpa) from the current 91Mtpa. Talk about duplication.
Throw in a carbon tax, add a dash of a resources rent tax, and there's a perfect recipe for stepping back from new coal mine build. Its important to understand that domestic coal resources are often made economic by the existence in the same coal deposit of premium export material which has a higher calorific value.
The market is not currently helpful either. Export coal prices sank to their lowest level last week in four months, at around $84/t. According to Bevan Jones, GM of trading house, London Commodity Brokers, the next support level is $80/t.
"The closer we get to a $75/t RBCT price, we will start to see many marginal South African mines shut down,' says Jones. "The cost of accessing alternative rail and port allocation is simply too high to make exports work,' he added.
Sipho Nkosi, CEO of Exxaro, thinks a recovery in the coal market is due. Let's hope so. Lower coal prices, and some technical difficulties saw the commodity's contribution to net operating profit fall just over R1bn in Exxaro's financial year ended December to R1.9bn.
When coal doesn't perform, Exxxaro's reliance on iron ore, essentially its 20% stake in Sishen Iron Ore Company (SIOC, controlled by Anglo American's Kumba Iron Ore), is all too obvious. Some 69% of Exxaro's earnings, an equity contribution of R3.2bn, was from SIOC. That's a lot of reliance on an asset it doesn't control.
Much has been made of Exxaro's structure; that it looks in part like an investment house. It now owns 44.65% of Tronox which was spun out in the last financial year, but Nkosi reckons that 50% plus control of the asset is a medium-term target.
But Mayoko iron ore is clearly a development priority for Exxaro. Of the $320m it hopes to spend, $120m will be on the railway, and the port infrastructure at RoC's Pointe Noire and $180m on the mine itself, including equipment.
Says Wim de Klerk, Exxaro's CFO: "Even if we just stick with the first phase 2Mtpa it will provide us with sufficient IRR (internal rates of return) as mandated by the board,' he says.
Yet Exxaro needs the second phase development at Mayoko; it needs to be a cracker of a project. According to Nkosi, representatives from the RoC have been "in our offices more than their own country' putting in place the basis for a transaction; which is more than can be said for South Africa it would seem.
In a caveat not much highlighted in coverage of Exxaro's figures, the company said that a proposed 600MW coal-fired joint venture with an independent power producer (IPP), which is being prepared in parallel with the development of the Thabametsi coal mine, was in the final stages of a bankable feasibility study.
It added: "The bankable feasibility study is conditional on the establishment of an appropriate enabling environment in which such a development can proceed'.
Asked for details, Ernst Venter, head of Exxaro's new business division, said amendments to South Africa's Electricity Act needed to allow for IPPs to build base-load power generation capacity for their own use, and to be able to wheel it into the grid. Without it, the 600MW won't fly it would seem.
As matters stand, IPPs need to secure the written support of the minister of public enterprises, Malusi Gigaba, before developing base load power production. That's just one of the reasons Eskom is struggling with a wafer-thin reserve margin of only 1% to 2%.