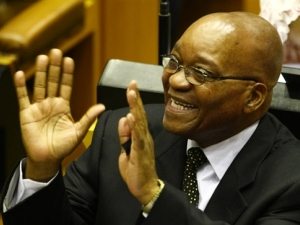 [miningmx.com] – SOUTH African president, Jacob Zuma, appealed to labour unions and mining companies to conduct wage negotiations in a "fair and expeditious way', and acknowledged the effect it could have on job retention goals.
At an emergency media briefing at the Union Buildings in Pretoria, Zuma stressed that South Africa needs a stable mining industry. "Mining has been a key feature of our economy for more than 130 years. It remains cornerstone of our economy even though it has become smaller relative to size of the overall economy.'
When the mining sector is in difficulty it has a ripple effect on the wider economy, Zuma said, which leads to an industrial slowdown.
He singled out 2012 as a particularly difficult year for the mining sector when the industry was hit by wildcat strikes, which led to the loss of lives and disruptions of mining activity and operations.
During question time, Zuma insisted government was "very neutral' when it dealt with issues in the mining sector.
"Deputy president Kgalema Motlanthe is meeting the National Union of Mineworkers (NUM), the Associated Mineworkers & Construction Union (Amcu) as well Cosatu. We're not excluding people. We're not taking sides,' Zuma said.
"The fact that Cosatu is in alliance with the ANC has never stopped us from dealing with matters openly and fairly without fear or favour.'
He did caution, however, that unions can't be allowed to engage in wildcat strikes. At the same time, he said labour strikes should not be seen in a negative light as it is workers' constitutional right to go on strikes. "Strikes are portrayed as a big problem in South Africa. But it's part of democracy,' Zuma said.
The media briefing is the latest manifestation of the South African government's concern with the flagging fortunes of the rand, and signs of labour discontent on the mines following a two-day strike at Lonmin, the platinum producer.
Zuma said Kgalema Motlanthe, the deputy president, had been directed to lead interactions between labour and mining companies, and that he'd asked finance minister, Pravin Gordhan to soothe the fears of foreign investors in the mining sector.
"The finance minister has been using every available opportunity to reassure foreign and domestic investors of our seriousness and commitment to mining sector, and to affirm confidence in South Africa as investment destination," said Zuma. "He has been assigned to continue with this task," he added.
The South African economy had to achieve the 3.5% growth in GDP, as set down by the National Development Plan, in order to alleviate poverty and encourage job creation, said Zuma.
South Africa's economic recovery following the 2009 financial and economic crisis had been good, but not as strong as was needed. "Without faster growth, we can't succeed in reducing unemployment and poverty," he said.
The World Bank yesterday cut its growth forecasts for South Africa citing structural issues, including the prospect of labour market unrest.
The economy is likely to grow 2.5% in 2013, 3.2% in 2014 and 3.3% in 2015, down from estimates last July of 3.2% in 2013 and 3.5% in 2014, the World Bank said.
"Should a widespread labour dispute arise within the forecast horizon, output could contract substantially and business confidence could fall, adversely affecting investment and hiring decisions," it said in a report.